Arizona Public Media Originals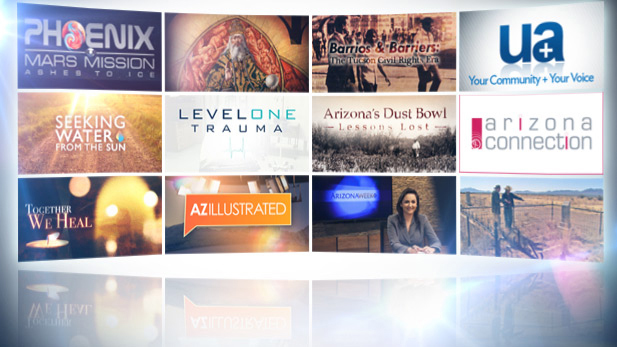 Arizona Public Media original news:
AZ Illustrated
. This program features different hosts and topics each night – offering insight and discussion relevant to Southern Arizona audiences. Watch weekdays at 6:30 p.m. on PBS 6.
Arizona Week
. Produced and hosted by Lorraine Rivera, the goal of
Arizona Week
is to take a top news story each Friday and explore it in-depth by interviewing newsmakers and others with expertise. Airs Fridays at 8:30 p.m. on PBS 6.
Arizona Public Media locally produced award winning documentaries include:
Leval One Trauma, a revealing, personal, and gripping look "behind the scenes" at the University of Arizona Medical Center as first responders, doctors, nurses, and other specialists race to save lives in the hospital's Trauma Center.

Seeking Water from the Sun, a documentary that ventures into university laboratories and across the Navajo reservation to explore a way of life that revolves around water—and its scarcity.

Unforgettable, an homage to Korea's forgotten fighters, where veterans recall some of the searing wartime memories that were etched into their hearts and minds.


Click here to learn more these and other Arizona Public Media documentaries.