Arizona provides endless opportunities for outdoor exploration, and residents in Tucson and nearby communities have a relatively close destination famous for its birds and other scenic sites and outdoor activities.
Madera Canyon, east of Green Valley, is an area of about 4,600 acres that is part of the Coronado National Forest.
Within Madera Canyon's boundaries, there are four biological life zones and hundreds of bird, mammal and reptile species.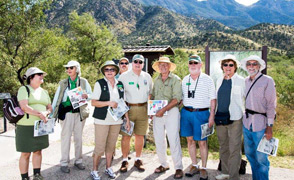 PHOTO: Friends of Madera Canyon
When Tom Purdon and his wife retired to Green Valley, they heard about the canyon and Friends of Madera Canyon, so they decided to get involved.
Purdon is now the president of the group.
Purdon said the organization is dedicated to many programs to help this natural oasis, where there are many impressive birds such as the elegant trogon.
The programs include educational events for children and adults, such as nature walks that raise awareness about the area.
"It's just a total outdoor experience for complete enjoyment," Purdon said.
"It's a thing that doesn't count against your longevity in terms of another day older," he added. "You probably get credit in the bank and you're going to live longer when you enjoy this kind of outdoors recreation."
Purdon said the Friends of Madera Canyon's accomplishments would not be possible without community donations and dozens of volunteers.