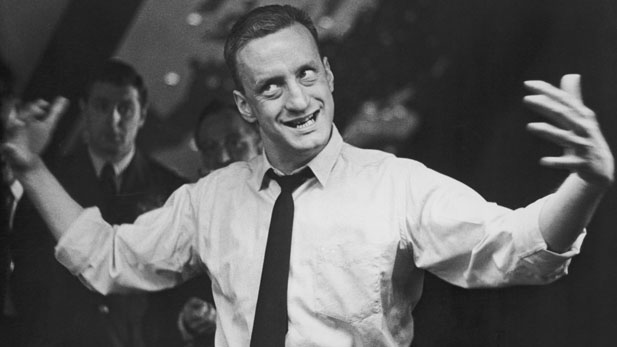 George C. Scott as ultra-patriotic General Buck Turgidson in Stanley Kubrick's "Dr. Strangelove"
This year marks the 50th anniversary of Dr. Strangelove, the 1964 satire on nuclear war directed by Stanley Kubrick.
I first stumbled across the film on late night TV in the early 1970s. My delight was combined with a sense of amazement that the movie had been made at all. In the early 60s, before there was an antiwar movement or a counterculture, that a mainstream commercial film could be produced that ridiculed the government, the military, the very premises of the Cold War, with such complete abandon, was astounding.
Listen:
The movie's full title is Dr. Strangelove or: How I Learned to Stop Worrying and Love the Bomb. It tells of an insane trigger-happy Air Force general named Jack D. Ripper, played by Sterling Hayden, who orders a first-strike nuclear attack on the Soviet Union.
At the Pentagon, in the "War Room," the well-meaning but ineffectual American President Merkin Muffley, played by Peter Sellers, gets on the phone with his counterpart in the Kremlin, Premier Kissoff, to try to stop the planes from reaching their targets.
The film has three locations between which the story switches back and forth: General Ripper's air base, where Group Captain Lionel Mandrake, also played by Peter Sellers, tries to persuade the insane general to give him the recall codes; the War Room, a dark cavernous space with a huge oval shaped conference table revealed by stark overhead lights and surrounded by maps, at which the President meets with his joint chiefs of staff and other advisers, led by macho anti-communist General Buck Turgidson, played by George C. Scott; and finally the inside of one of the planes sent to attack Russia, piloted by Texas good ol' boy Major Kong, played by Slim Pickens.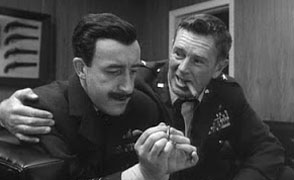 The Bronx-born Kubrick had already turned his back on Hollywood and was working exclusively in England. Because MGM's British studios were considered a write-off, Kubrick was able to establish complete creative control over his films there, which explains how he could get away with such unfettered satire.
Originally he'd bought the rights to a serious novel called "Red Alert" by English novelist Peter George. They decided to turn it into a black comedy, and Kubrick brought in Peter Sellers, who had helped make his previous film Lolita a success, to play multiple roles.
The final stroke, to add a bit of manic genius to the mix, was when Sellers suggested that his friend, American satirist Terry Southern, be brought in to help with the screenplay. His brilliant irreverence proved to be a perfect match with Kubrick's gallows humor. Southern's fingerprints are all over the film—with the silly names, the jabs at military pomposity, and the distinctly American flavor of much of the dialogue.
The many hilarious lines and bits of business from the movie have become justly famous, although I hesitate to give too many examples in case you haven't seen it. Sterling's Hayden's character, General Ripper, is a source of some epic rants, his anti-Soviet mania boiling down to an obsession with the fluoridation of water, which he believes to be a conspiracy by the reds to sap our "precious bodily fluids." Hayden plays it straight, so that the character's absurdity is coupled with an almost frightening believability.
The scenes in the War Room are perhaps the most memorable, and here there's an important factor that is not mentioned often enough. We don't usually think of George C. Scott as funny, but he had long stage experience in comedy, and it paid off here. General Turgidson capers about the room, at one point even falling down, while uttering priceless nuggets of belligerence such as "Mr. President, I smell a commie rat!" It is a peerless performance that tops off the film.

Kubrick's fascination with gadgets and technology is clear in the claustrophobic airplane scenes, with the crew methodically going through its technical procedures on the way to World War III, and Slim Pickens giving orders in a laconic Texas twang, all against the background of the song When Johnny Comes Marching Home.
Kubrick allowed Peter Sellers to improvise much of his dialogue, and this bears wonderful results in his third character, the ex-Nazi science advisor Dr. Strangelove. Wheel-chair bound, with glazed over eyes and a creepy grin on his face, the Doctor appears late in the movie to explain the consequences of nuclear war. It's a pointed satire on the American appropriation of ex-Nazis such as Werner von Braun. If you look hard enough, you'll see the other actors struggling to keep a straight face during Sellers' routine.
The film met with mixed reviews. Some thought it was wrong to make fun of such a deadly serious subject. It so happened that a film called Fail-Safe, starring Henry Fonda as the President, and with almost the exact same premise, but a serious drama, was made the same year. It's a good film, but in retrospect the satire of Dr. Strangelove was far more effective. It had moderate box office success, and later gained cult status over time.
Now, after the Cold War, one might think that this movie has become dated, lost its relevance. But nuclear weapons still exist in large numbers—that danger is not completely gone, and our complacency adds to the danger.
I credit Dr. Strangelove with having the nerve to say out loud, with raucous humor, what wasn't being said in public often enough—that the very idea of possessing weapons that can destroy all life on earth is lunacy.