Second in a Series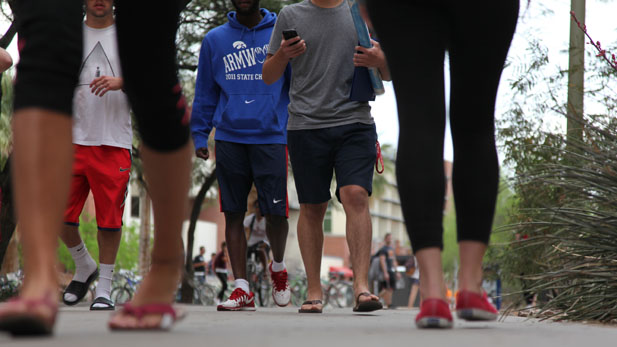 On the University of Arizona campus.

Andrea Kelly, AZPM
Listen:
University of Arizona Campus Health Service officials have been recognized for their suicide prevention efforts by a national prevention organization formed after a UA student took his own life in 1998.
The recognition from The Jed Foundation means the UA is complying with best practices for preventing students from dying by suicide. The guidelines were written by the Jed Foundation to reduce the number of suicides among college students, because it is the second highest cause of college students' deaths, behind vehicle crashes.
But tracking the success of such programs is difficult because of the stigma about suicide, said Marian Binder, director of Counseling and Psych Services at the UA.
People often don't report student deaths as suicide because they don't want to invoke negative stereotypes about suicide, or because they don't know the death was intentional, she said.
Student deaths are reported to the dean of students office, and suicides are tracked when the office is told by family or medical reports that it is a suicide, Binder said.
In the last four years, student death numbers have fluctuated, but suicides have remained in the single digits. Arizona Public Media could not independently verify the figures.
The numbers, as reported by the dean of students office:
2010: 16 student deaths reported, 1 as suicide 2011: 23 student deaths reported, 2 as suicide 2012: 18 student deaths reported, 4 as suicide 2013: 19 student deaths reported, 4 as suicide
Jed Satow's Impact
Phil Satow gets frustrated when he says he cannot track success in suicide prevention, because lives saved are untraceable. His son Jed was a sophomore at the University of Arizona in 1998.
"As an individual he was a very, very warm young man. He always had an amazing sense of humor," Satow said of Jed. "He had an enormous number of friends, he was extremely well liked and very popular in school right up through college."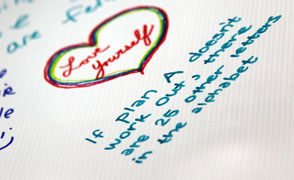 As part of the program "Hope Notes," University of Arizona students write positive or uplifting messages for others.

Andrea Kelly, AZPM
Jed was intelligent, Satow said, and people were drawn to him and became emotionally attached to him, as did he to others.
"We had no difficulties with Jed at all. He was just a normal ... terrific young man, really until the middle school years, when what appeared to trigger unusual behavior was the loss of the mother of his closest friend at that time," Satow said.
Jed was diagnosed with attention deficit disorder, but not mental health disorders that can make a person higher-risk for suicide: depression, bipolar disorder and anxiety. Satow suspected Jed may have had one of those illnesses.
During winter break from college in 1998, when Jed was home in New York City visiting his family, he had a fight with his girlfriend, Satow said.
"After the argument, the best I've been able to piece things together, he was very, very distraught and upset with himself and proceeded to go to our weekend house by himself and he took his own life sometime that evening," he said.
That left the Satow family struggling. Guilt, regret and unanswerable questions still arise. Satow had tried to get Jed psychological care a number of times, including admitting Jed to an inpatient facility, only to withdraw his son after another patient committed suicide in the unit where Jed was undergoing evaluation. Satow still wonders whether he did enough.
And when the Satows visited Arizona to see Jed's fraternity and friends after his death, they met with Peter Likins, UA president at the time.
Likins asked them what he could have done, with 30,000 students on campus at the time.
The Satows didn't know how to answer the question, and Satow said that became the mission of the Jed Foundation, named for their son, devoted to college suicide prevention.
"We tell universities what it is they ought to do to protect the student body from, not only incidents like Jed's incident, but how to protect the good mental health of the student body at the university, whether it has 30,000 students or 3,000 students," Satow said.
The Jed Foundation wrote guidelines for schools to adapt to their needs and circumstances to design a campus suicide prevention model.
"It includes things like having programming in place to help develop the life skills of students so they can cope with adversity, they can regulate their emotions, that they're resilient," said foundation Executive Director John MacPhee.
Further, he said, the model was built "to make sure that a school has good treatment services available on the campus or in the community, that programming and events and education is done on campus to reduce the stigma of mental health and encourage help-seeking among the student body."
The foundation gives what's called a Jed Campus Seal to schools that meet the guidelines in their prevention efforts, and the UA was among the first 30 schools to receive the seal when the program began in 2013.
Tracking Emotional Well-Being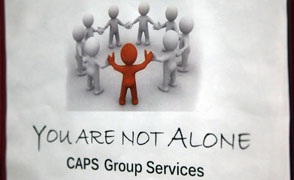 A sign about group counseling sessions at the Counseling and Psych Services office at the University of Arizona student health center.

Andrea Kelly, AZPM
UA officials survey students annually about health issues and have incorporated mental health into the questions in the past few years, said David Salafsky, director of the UA's health promotion and preventive services.
Among the thousands of UA students who completed the 2013 UA Health and Wellness Survey, 8 percent said they seriously thought about suicide in the past school year, and 1.3 percent said they attempted suicide in the past school year.
The numbers show specific groups are more likely to be suicidal. Among those who identify as lesbian, gay, bisexual, transgender or queer, 25 percent said they seriously thought about suicide in the last year. That compares with 7 percent of heterosexual UA students who said the same in the last year.
Nationally, Native American students are 1.8 times more likely to die of suicide than their non-native peers, Salafsky said.
And student veterans are twice as likely to die of suicide than the general population. Student veterans are also more likely to die when they try to kill themselves because they have access to weapons and training in their use, Binder said.
The driving diagnoses behind suicide are depression, bipolar disorder and anxiety, Binder explained. In the last survey, 14 percent of UA students said they had been diagnosed with anxiety and 13 percent with depression.
Half of the students said they experienced stress that was "more than average or tremendous" in the past year.
And they are driven by stresses that can be specific to a college student, Binder said.
"There are very high pressures on students, not only the academic pressures but the social pressures, sometimes financial stressors on top of it," Binder said. "You have a lot of students who are on their own for the first time trying to figure things out. You also have students who are already married, have families, have jobs in addition to their role as students, and so they have a lot to balance and a lot to juggle."
The academic pressures are increased when students have learning disabilities or difficulties. The UA has a center, known by the acronym SALT, that drew Jed because he knew he would have academic support while navigating college, his father said.
At the time, there was no accompanying emotional support for students in the program, and Satow said he was pleased to learn, in recent years, that the SALT Center incorporates psychological support for its students.
University of Arizona Prevention
UA campus efforts are focused on getting as many people educated and involved in prevention as possible.
The theory is not every student who needs help will make an appointment with a campus psychologist, so programs train students and staff to identify someone who might need help, teach them to ask if a person is suicidal – something experts say no one is comfortable doing – and then convince the person to get help and refer him or her to the appropriate place for professional help.
That program is called QPR, which stands for question, persuade, refer, following the steps above.
"We tell people like with CPR the goal is to have techniques to keep people alive until professional help comes, the same thing with QPR. We're not training people to become professional counselors," Binder said.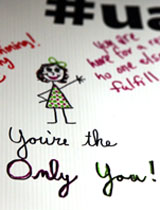 As part of the program "Hope Notes," University of Arizona students write positive or uplifting messages for others. (PHOTO: Andrea Kelly, AZPM)
The program empowers people so they know they have the right to intervene when they think someone needs help and then teaches them how to do that so they aren't worried about making someone more upset by asking about suicide.
The biggest fear people have about helping is concern that they are suggesting suicide as an option, Binder said.
"For the most part they've been thinking about it for some time. And if you just say to somebody, 'are you thinking about killing yourself?' you're never going to engender a situation where they say, 'oh no I never really thought about it but now that you mention it it's a good idea,'" Binder said.
The UA suicide prevention program also includes a program called Hope Notes, in which students post positive messages for one another to discourage despair or loneliness.
"We're now finding that people often don't (say) that they're suicidal, but if you ask them directly, they actually sometimes tell you that they are. And you wouldn't have picked that up, necessarily, from what they might have done or said if you hadn't asked the question," Binder said.
It's also more effective, Salafsky said.
"Chances are unless a student self-refers, they're not going to come see us. But if we can get the community on board, it's much more likely that they're going to have an interaction with somebody who might be in trouble and who can benefit from the help here at Campus Health," he said.
And that just requires common sense and attention, he said.
"In general: notice, care, help. Think about the people you're around day-in, day-out, the people you care about, loved ones," Salafsky said. "You know what's normal, when you see somebody veering from that, that's a sign that there might be something up."
All of the prevention efforts and the Jed Campus Seal reflect the UA's efforts are in line with best practices, but they cannot bring back lives lost. Satow said if he helps stop one other person from killing himself or herself, he will have succeeded.
"If I can prevent any other parent from suffering what Donna and I had to suffer, that would be a wonderful thing," Satow said.
Listen to the other parts of this series: Confronting Suicide Part 1: Teen Suicides. Confronting Suicide Part 3: Suicide Among Elderly.
Confronting Suicide Part 4: Reporters' Notebook.