Listen:
For more than a decade, Tyler Woods thought her grandfather had died in his sleep. She'd watched him fade out of her life after his wife's death, and wasn't surprised when his time came — until she learned the truth.
"They put him in a home, and during that time apparently he was cheeking his pills and...he got quite the stash and he passed away from an overdose," Woods said. "But what I was told when he died was he just died of a broken heart."
Woods' grandfather had in fact died by suicide, as more than 8,000 older Americans do each year.
The National Institute of Mental Health says older adults have the nation's highest suicide rate. Elderly white men are at special risk: their rate of suicide is higher than for any other age group, including teenagers.
Data from the Centers for Disease Control and Prevention show that white men in their 60s are about two to three times as likely to die by suicide as younger Americans. By their 80s, they're four to five times as likely.
As a longtime mental health clinician and leader of the suicide support group Survivors of Suicide, Woods knew the facts about older adults and suicide. But she was devastated by her family's secrecy around her grandfather's death.
Such secrecy makes it difficult to measure just how common suicide is among the elderly, said Donna Carender, program coordinator for the Pima Council on Aging Suicide Prevention Program. Their suicides are often underreported, either because family members find they can't bring themselves to disclose the suicide or because they are not aware that one took place.
"If, say, a 90-year-old grandfather just doesn't wake up one morning, everyone is going to say it was a natural death," Carender said. "No one is going to question whether he swallowed all the medication in his house."
Grief and untreated mental health issues, such as depression, are the roots of this public health problem, Carender said. As people leave the workforce, face medical issues or lose friends and spouses, many also lose their sense of purpose and connection, and find themselves adrift.
Carender said stigma is part of the problem. The stigma that surrounds suicide and mental illness keeps many elders from being open about their suffering or seeking help. But the other part of the problem, she said, is that American society devalues the elderly.
"We're horrified when a young person kills themselves," she said. "When an older person does it, people say, 'I understand, because they had all this going on: he was going blind, and he was losing the ability to walk.' There's an acceptance of suicide among older adults. But it's still a human life. It's still a life that has a potential future. It's a life that's enriched with so much wisdom that can be shared with other people. It's just as valuable as the 15-year-old."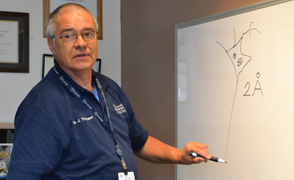 University of Arizona psychiatrist Ole Thienhaus specializes in geriatric psychiatry, the study of mental health in older people.

Glory Novak, UA Department of Psychiatry
Medical providers aren't immune to this bias, said University of Arizona psychiatrist Ole Thienhaus — and that's especially dangerous, because the elderly are somewhat more likely to ask primary care physicians for help. One study found that as many as 70 percent of people over age 55 see their physicians during the month before their suicide. Thienhaus said a dismissive doctor can miss key signs.
"Often younger clinicians don't realize how active a healthy older person can be," he said. "There's a tendency to jump to the conclusion that they're old - 'who wouldn't be depressed if they were old and didn't have anything to do?' The assumption too often is that this is all part of old age, and it isn't."
As chair of the UA Department of Psychiatry, Thienhaus is working to train clinicians who are better educated about suicide and depression among the elderly. But he has a way to go: mental health care providers and hospital units that cater to older patients remain few and far between in Southern Arizona, he said, even though demand is high and will continue to grow.
Another need is to put mental and physical health care on equal footing. Typical care focuses on medical needs and gives emotional needs short shrift, Thienhaus said - even though the two are intertwined and chronic illness increases the risk of suicide.
"There's a positive correlation between serious medical illnesses and suicide across the lifespan, but those conditions are more common in older people," Thienhaus said. "Ideally, the treatment for a chronic, painful, debilitating condition like arthritis would occur in a primary care setting that is integrated with mental health care, and instead of just talking about the pressure points or decreased range of motion, patients could talk about how the illness affects their lifestyle, and how it interferes with their autonomy, and how the loss of autonomy affects their quality of life."
The Medicare program, on which so many older Americans rely, also contributes to the shortfall in care providers and quality of care. American Psychological Association surveys and independent studies show that Medicare payments for certain mental health services and the number of mental health care providers who accept Medicare both declined significantly between 2001 and 2013.
The Pima Council on Aging Suicide Prevention Program is trying to address these growing needs by deepening the pool of people who can help. Since 2007, PCOA has trained hundreds of workers who interact with the elderly in ASIST and safeTALK, two models for reaching out and intervening if someone is suicidal.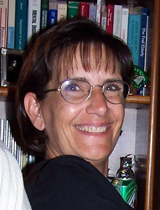 As program coordinator for the Pima Council on Aging Suicide Prevention Program, Donna Carender has brought the intervention models safeTALK and ASIST to southern Arizona. She said PCOA has trained more than 350 people in ASIST and more than 700 in safeTALK since the program began in 2007. (PHOTO: Courtesy of Donna Carender)
PCOA isn't limiting itself to medical professionals. They're training social workers and Meals on Wheels drivers, even beauticians — what Carendar calls the "frontline people."
"They will be able to recognize some of the most isolated people in our community.," Carender said. "So if they're trained in safeTALK and they see these changes in the person they've been seeing every week, they're capable of asking about suicide, they're capable of helping this person get to the resources."
Although PCOA has not yet measured the program's impact in Pima County, other studies support its effectiveness, Carender said.
"The National Suicide Prevention Lifeline has just completed a study...with ASIST counselors and counselors using an older model of intervention," Carender said. "And the people that received the ASIST intervention by the end of the phone call were 74 percent less likely to kill themselves."
Woods has channeled her own loss into prevention and what she calls "postvention," which is support for surviving family members and friends. But she has not shaken her grandfather's death.
"You will not get over it," she said. "None of us will get over it. What we will do is little by little learn how to live with it. And I think that's about as good as peace comes for us."
In her search for peace, Woods said she's changed how she sees the old and their place in the world.
"We need to bring the elderly, elderly care and elderly problems to the forefront of our community and our lives," she said. "These are the people who paved the way for us and created the path we walk on, and what we've done is totally shut them out."
Next in the series: Reporters and producers of Confronting Suicide, Andrea Kelly, Fernanda Echavarri and Gisela Telis, discuss what they've learned.
Listen to the other parts in this series:
Confronting Suicide Part 1: Teen Suicides.
Confronting Suicide Part 2: Prevention Top Focus for Colleges.
Confronting Suicide Part 4: Reporters' Notebook.