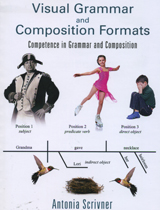 "I find it challenging, and I find the mixture of cultures and the diversity enormously fascinating."
That is what Antonia V. Scrivner had to say about what makes the Sonoran Desert so special to her.
Scrivner is an educator whose career began in the days of Arizona's one-room schoolhouses, and she is the author of a diverse array of non-fiction.
Her first book was a history of the region called Valiant Southwest. Her latest is a guide to gaining confidence in grammar and composition called Visual Grammar and Composition Formats, printed in 2013 by Tate Publishing.
If you recall learning the complexities of sentence diagrams in school, imagine trying to do it without any visual aids. Antonia Scrivner is blind, but her remarkable memory has led her to design her own method for diagramming sentences.
She'll explain (or at least try to explain) her system to Mark McLemore in this interview:
Listen: