Listen:
Sunday would have been the birthday of Charles Poston, the self-proclaimed "Father of Arizona."
He was born in Kentucky in 1825.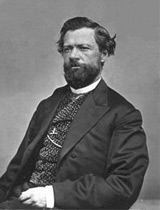 Charles Poston is the self-proclaimed "Father of Arizona."
Poston, a printmaker's son who orphaned at age 12, became a court clerk in his teens. He then headed west to California, as did thousands of other migrants in the 19th century.
He eventually came to Yuma, Ariz., where he struggled to find funding to begin a mining operation in the newly purchased U.S. territory of New Mexico.
After traveling to Washington, he lobbied for the creation of a separate Arizona Territory, which was granted in 1863. He spent much of his life championing his role in the founding of the state, but historians say that claim has not lived up to scrutiny.
Bruce Dingus of the Arizona Historical Society said, "Poston for a long time, up until the 1960s, was pretty much the self-proclaimed 'Father of Arizona,' and took most of the credit for creation of the Arizona Territory. And he had a lot to do with it, mostly in the role of relentless promoter."
Dingus said Poston outlived many of his peers, adding to his own mythology as a traveler, businessman, and Arizona founding father until his death.
Poston became a convert to Zoroastrianism late in life and died in poverty in Phoenix in 1902.