Some young Tucson musicians are getting ready for a memorable performance.
The children from White Elementary School's Bulldog Mariachi Folklorico are scheduled to play at the Rialto Theatre in downtown Tucson ahead of Los Lobos' scheduled performance the night of Friday April 25th.
Kindergarten teacher Bill Mark and mariachi founder said he's a big fan of Los Lobos.
When he heard the group was coming to Tucson, he sent an email to the band's booking agent asking if the musicians would visit the school during their time in Tucson.
The booking agent said that would not be possible, but he did invite the bulldogs to play at the Rialto instead.
"I was surprised, at first I didn't know what Los Lobos were but then when I got explained I was like, 'oh my gosh,'" said 10-year-old Iván Miranda, a member of the mariachi.
More than two dozen children and a few adults are expected to perform for about 15 minutes, and then be joined by Los Lobos for a couple of songs.
The local psychedelic cumbia band Chicha Dust is set to begin the concert at 8 p.m. before the children and Los Lobos go on stage.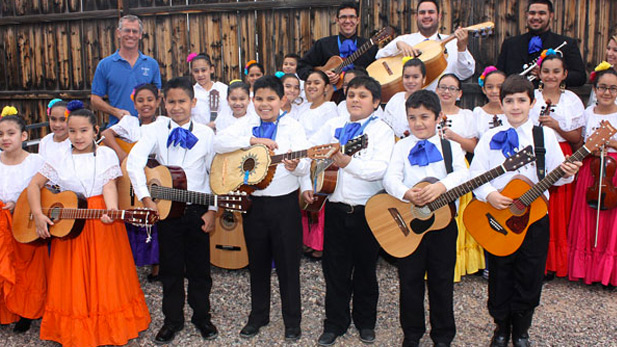 PHOTO: Tucson Unified School District
White Elementary School's mariachi band sharing the stage with Los Lobos on Friday, April 25 at the Rialto Theater.