(VIDEO: AZPM)
Listen to story as produced for Arizona Spotlight:
At the Tucson Jazz Institute, preparation sounds like the rattling of the tambourine, the blare of the trumpet and the enthusiastic clapping of the director.
The group of high school musicians is getting ready to perform at the Essentially Ellington High School Jazz Band in New York in May.
"The Essentially Ellington competition is the Super Bowl. It's the NCAA tournament. It's the World Series of high school jazz," explained Doug Tidaback, the director of large ensembles at the TJI.
This is the fourth year Jazz at Lincoln Center has invited the band to compete. Last year, they won the competition's overall division.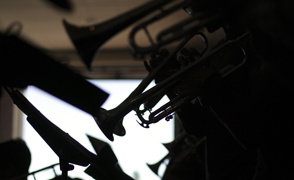 At the Tucson Jazz Institute, preparation sounds like the rattling of the tambourine, the blare of the trumpet and the enthusiastic clapping of the director. (PHOTO: Mariana Dale)
"On stage last night, I did not expect our name to be read last as the first place band," Tidaback said in a phone interview from the airport before they returned to Tucson. "It's amazing just to be considered among those great bands. Any one of those bands could have won."
The group that competed in 2013 was young, with only one senior. Tidaback said there are more than a dozen graduating musicians this year.
"They're like brothers and sisters. They work together very intimately to create the highest level performance that they are capable of," Tidaback said. "They know when they're achieving it and they know when they're not."
If the group is a family, their studio is home. Before Sunday rehearsals, open music cases and half-assembled instruments are strewn throughout the lobby. Students grab fast food dinners to scarf down before practice. The hard work starts with snapping and a count of "one, two, three, four" from the director.
In addition to the band's bi-weekly rehearsals, the students are required to be a part of their high school programs, if the school still has one.
"Sometimes at high school you get kids that just do it because they do it and they don't really appreciate it, but over here, every single kid has that appreciation of it, that want to get better," said Anthony Gibes. He plays trumpet and attends Salpointe Catholic High School.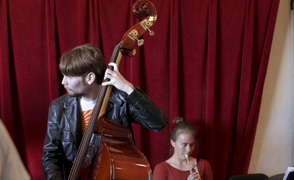 Musicians in the Ellington Big Band meet at least twice a week to rehearse. In addition, most students are also a part of their high school music programs. (PHOTO: Mariana Dale)
A handful of musicians make the two-hour trek from Phoenix to practice with the band, including Kacey Fassett. She plays saxophone and said this group rises above any she's found elsewhere, even compared to playing with professionals.
"You get connections with people that are deep, they are different than just talking," Fassett said. "You can feel each other when you play."
Fassett will attend New York University in the fall to study music, and said her time at the TJI has helped define her style.
"I guess I just really like that, being able to like improvise and have a voice because in classical music they'd always be like you need to sound like this and then in jazz it's just try to sound as best as you can like, like whatever sound you want, just be good at it," she said.
Whether the band will carry off another win at Essentially Ellington, is up to the judges.
"It was an unbelievable feeling to win last year," Gibes said. "That's what we want to achieve, but at the same time, no matter if you come in first or 15th you come away differently."
The win also changed Gibes post-graduation plans.
"Coming away from last year's Essentially Ellington, I knew music is what I wanted to do for a living and before that I was kind of unsure," he said.
Gibes said he plans to attend the University of Arizona in the fall and study music education.
"A professional athlete is done when they're 35 years old, if they're a football player or something," Gibes said. "I can do this 'til the day I die and that's something that I'm really looking forward to."