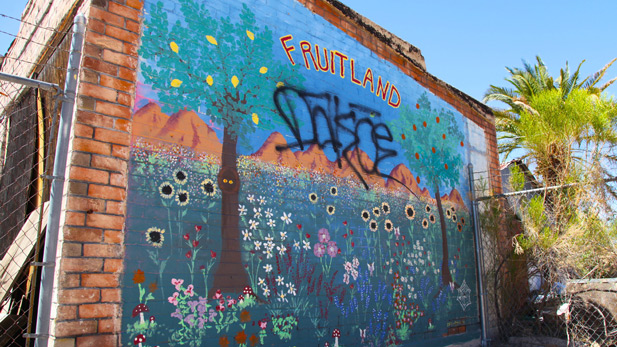 After 55 years, owners Larry and Joan Green close the downtown Tucson fruit market, best known for its cherry cider, grapefruits and fresh dates. (PHOTO: Vanessa Barchfield)
Listen:
Splintering wooden signs advertising "Figs," "Cherry Cider" and "Fresh dates 1 pound $1.99" still swing from the dilapidated fruit stand on the northwest corner of Speedway Boulevard and Sixth Avenue, but the chain link fence is locked.
After 55 years, owners Larry and Joan Green closed their Fruitland Market for the last time.
The Greens said last year they received notice from the owner of the property, Miller & Holmes, Inc., that the plot was for sale and they would need to vacate their shop – as well as their home, in the back of the store.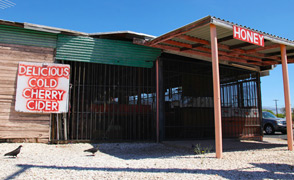 Fruitland Market plot being sold, owners had no choice but to vacate. (PHOTO: Vanessa Barchfield)
Larry Green, 86, was packing boxes when he said he's still getting used to the idea of forced retirement.
Green, a native of Michigan, began his career working in the market for $1 an hour, and bought the shop from his boss in 1962.
Every two weeks for the past four decades, Green would trek to Phoenix to stock up on the fresh grapefruits and strawberries and tomatoes that attracted his loyal cadre of costumers.
"I brought everything back myself. With my van back there," Green said, pointing to a white Chevy van. It was parked next to a mobile home, which, sometime in the next week, the couple will climb into, and drive more than 2,000 miles to their house on a lake in Michigan.
But they'll be back – Green said that, like many Arizonans, they can't stand the idea of a cold winter.