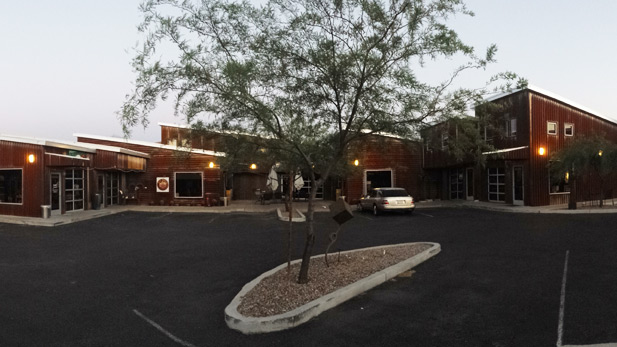 Metal Arts Village is home to a variety of artists, housing art thoroughly Southwestern but also far from traditional.

Kate Newton
From the outside, the Metal Arts Village certainly suits its name: 12,000-square feet of artists' studios, welded together from end to end without a single nut or bolt.
Stepping inside the structure near Fort Lowell Road and Dodge Boulevard, however, reveals a space that is much more diverse than its name lets on.
The village's once-shiny exterior – now rusted in various shades of golden brown – has transformed considerably in the four years since it opened, not unlike the types of artists who work there. It is home to an interior designer, photographer, stone sculptor, stained glass artist and painter, among others, and while some of the art is thoroughly Southwestern, the majority is far from traditional.
Listen:
Sue and Greg Lohr recently visited the village while on vacation from Wisconsin, and were astonished by the distinct talents of artists not only in the village, but in Southern Arizona.
"We were at a show a few weeks ago, we bought a table, a copper table, and we looked through and one booth is better than the next," Greg said. "One woman made a comment, she said, 'You don't see any crocheted toaster covers at these.' It's just unbelievable the talent down here and the beautiful stuff you see."
During their visit, the Lohrs viewed the gallery of Al Glann, a longtime village occupant who uses bronze and steel to sculpt horses, sometimes as large as their real counterparts.
Glann said working in the village gives an artist the best of both worlds: a space where artists recognize the need to be alone and focus on their art, but are also open to lending feedback and a helping hand when needed.
"We all kind of understand that we need our space and we need our time to work on things, but at the same time, if you need support, if you need help with something, everybody's there," Glann said.
Glann has welcomed the foot traffic that traverses through his studio since he moved into the village three months after it opened, and said the village's accessibility helps artists get the recognition they often lack from the community.
"The visual artists, we don't have an audience per se that claps and cheers and that sort of thing. We're able to kind of talk with people and share our experiences and what they get out of it. It's a lot of fun. You have that interaction between people of different backgrounds," Glann said.
Origins of Metal Arts Village
Village founder, Stephen Kimble, was in pursuit of that sense of community when he purchased the property nearly a decade ago. Formerly a lawyer, Kimble set out to make ironwork art a full-time endeavor rather than a hobby. He left Tucson, moved into a woman's basement in Cleveland to attend Lincoln Electric Welding School.
When he returned to the Old Pueblo, he had distilled almost 30 years of welding experience into a personal art form, and had a vision of building a space where artists of all disciplines could come together to work, a concept he believed was lacking in Tucson despite its high concentration of artists.
"I really couldn't find what I was looking for," Kimble said. "I thought, I can't be the only one with the dilemma, so I'm going to build it. I'm going to build exactly what I'm looking for and I'll bet you there are other people out there who are looking for the same thing, and I'll probably be able to gather a little community around me."
After he bought the property, Kimble passed on sketches of his "ideal space" – some drawn on a napkin – to an architect, and construction wrapped on the village about seven years later. He said it's an accomplishment that, in some ways, continues to defy preconceived notions of how a community can begin.
"On some level, I think it's proof that you can create an arts district really out of nothing," Kimble said. "There wasn't anything here before we were here. So I think it's doable."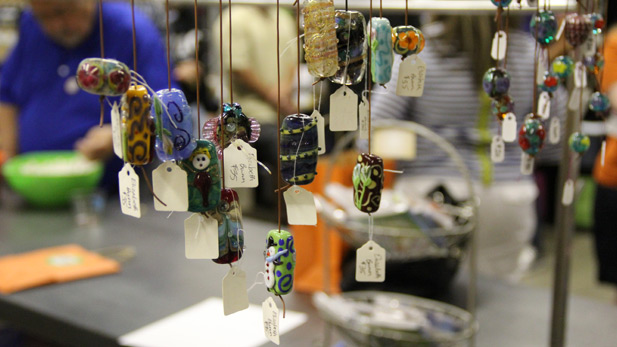 Beads of Courage is the only nonprofit to move into the village. Its Tucson headquarters receives about 70,000 handmade beads per year to distribute to children in 150 hospitals in six countries, including New Zealand, Canada, the United Kingdom and Japan.

Kate Newton
Maintaining an alliance between the artists – and the public - remains critical to the village's success. The villagers collaborate daily on projects, client sharing, and marketing strategies, and other partnerships, and meet regularly in the village's dog-friendly coffee shop to chat about what they're working on.
"You can't come to the village and visit just one place," Kimble said. "If you're going to come to the village, you're going to walk around. That's why what's good for any of us is good for all of us. The success of everybody I think is tied to the success of everybody else. So if we can get somebody in here to see one place, they'll see every place."
A Nonprofit Lives in the Village
Beads of Courage, a local organization that distributes handmade beads as symbols of strength and recovery to children battling serious illnesses, has highlighted how partnerships unfold in the village. Founded in 2003 by pediatric oncology nurse, Jean Baruch, the organization is also the only nonprofit to move into the village.
Beads of Courage's Tucson headquarters receives about 70,000 handmade beads per year to distribute to children in 150 hospitals in six countries, including New Zealand, Canada, the United Kingdom and Japan.
One volunteer, Stacie Eichinger, recently returned to Tucson after taking 12 million steps from the coast outside Seattle, Wash. to Savannah, Georgia to raise money for Beads of Courage. On her more than 3,000-mile journey, Eichinger visited 21 hospitals and raised more than $20,000, carrying a special bead created specifically for her walk every step of the way.
Artists in the village have created their own handmade beads for the organization, which run the spectrum from simple and colorful to elaborate, three-dimensional designs, in their medium of choice. Bright, cheerful designs are most common, and represent Beads of Courage's mission to give children something to look forward to even during the hardest of times, according to Baruch.
"I'm most proud of the fact that we've created a community, and a context for caring that never existed before," Baruch said.
Still a Secret to Many Locals
The Metal Arts Village still remains a secret to many Tucsonans, largely due its location. Kimble said the village's close proximity to homes, car and piano repair shops, a pet food store and a pool plastering company can make this cluster of galleries seem out of place, but its peculiar position also helps it stand out to those living in the neighborhood.
"They're glad that we're here, they say, 'you kind of class the place up and it's a good place to drive to and walk to' and we have neighborhood people come to the coffee shop and visit. I mean I'm happy to be here, I think they're happy to have us here," Kimble said.
The artists have defied the limits of their off-kilter locale by hosting an open house every month on the full moon, a tradition that began not long after it opened. Kimble said the event started quietly, but word-of-mouth soon drew in a steady following of visitors who attend almost every month.
Lynn Rae Lowe, a metal artist and longtime friend of Kimble's who was instrumental in getting the village off the ground, said she's impressed every day by how the village has evolved.
"It's taken a while to find its place, but the place it's found is really an addition to the community and relates to what I always was hoping it was going to be," Lowe said.
Advertising around town continues to bring in a new audience, too. Stuart Ferguson spotted a flier in one of his Pima Community College welding classes, and brought a friend from out of town. Joan Ruland Donnelly, visiting from Boston, said the range of art available for viewing at the event surprised her.
"It's a huge variety. I wasn't sure it was going to be that much of a variety being such a small village," Donnelly said.
Betina Fink, a painter who moved her studio into the village six weeks ago, was seeking a larger and more collaborative space to move into in Tucson for some time after working in the downtown area. She said she was immediately drawn to the village when she saw the emphasis it places on accessibility.
"Being a visual artist, part of my mission is to be open to the public so they can understand more about what it is to be an artist or to be an artist in the Southwest and to see the work, and to be accessible," Fink said.
An All-Inclusive Space
From the beginning, Kimble wanted the village to be an all-inclusive space for artists to create, display and sell their work, striking out galleries that act as middlemen and often take half of the sale profits as commission. He said this facilitates a more genuine relationship between the artist and a prospective buyer because they can see firsthand the process that goes into the work.
David Horwitz, a local photographer, agrees. He comes to the village several times a year both for the art and the atmosphere.
"It's an interesting place. Most of the times you get to see a finished product. This is where you get the see the product being created, and the process going into it," Horwitz said.
The most compelling space for many visitors is the village's sculpture garden, which acts as a hub of art viewing and live entertainment on open house nights and features work for sale by the artists. At any given time the garden shelters over a dozen pieces made by the villagers, ranging in size from knee-height to more than 10 feet tall. The volume of work available for viewing, however, can't be contained within the garden, such as villager Mark Wallis' purple, free-standing sculpture titled, "Celebration of Life," found just outside its fences.
The Future
These spatial constraints have prompted planning for the future at the village.
Beginning in July, Kimble said, he plans to demolish and rebuild the sculpture garden complete with a performance stage, projection wall, water features and expanded space for sculptures. The village will continue to give free exposure to its resident artists, and will have a juried process for accepting outside works while taking a small commission.
The planning, led by Kimble, village stone sculptor Joe Brown and landscape designer Kathryn Prideaux, began several months ago and will involve practically every villager in the design and construction process. Brown said he sees the new garden as a symbol of the commitment the village has made to providing art enthusiasts with a venue unlike anything else in the city.
"It'll be really top-quality art from us and also reach out to the community and local artists, and say we would like to have your artwork in here as well. So I think overall it's going to be a really exciting thing that we're going to be able to have for Tucson," Brown said.
The Metal Arts Village will host its next open house on Wednesday, May 14 from 6 to 9 p.m.