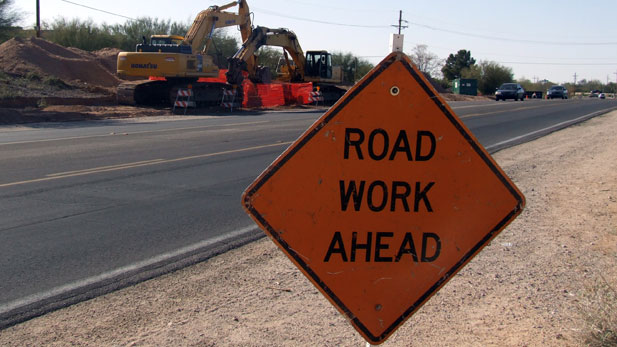 PHOTO: AZPM Staff
Listen:
About 28,000 working people in Tucson, or 9 percent of the workforce, is involved with jobs supporting infrastructures, including roads, utilities and airports, according to a new study by the Brookings Institution.
But the city's figures run below the national average, which is at 10 percent, for such jobs.
"Up to this point, when most people have talked about jobs in infrastructure, they have just looked at just those short-term, construction, shovel-ready jobs, which are significant," said Joseph Kane, the study's lead author, and a policy/research assistant at the Metropolitan Policy Program in the Brookings Institute. "But it misses out on this larger job pool that we explored in this report."
Kane's work also looks at those who work with infrastructure, such as truck drivers, architects and civil engineers, and many other occupations.
"We were surprised, even ourselves, that there were 14.2 million workers, about one in every 10, nationally, were employed in these jobs..." he said.
With Tucson 1 percent lower than the U.S. percentage, officials of of the area's businesses, working with infrastructure, feel more is needed.
"We have a huge need in the state for increasing not only the capacity of our infrastructure," said Cade Rowley, vice president of Sundt Construction. "But also updating the infrastructure that was built years ago."
Jobs lost when infrastructure isn't fully funded are notable in their quality.
"Infrastructure workers, particularly those at lower income levels, tend to make higher wages than those in other occupations throughout the country," Kane said. "As you can imagine, truck drivers and electricians have higher entry-level wages than a cashier or sales person."
It is no surprise that electricians and truck drivers are paid more, because those positions require apprenticeships or special licenses that require training.
And such training can be an issue in Tucson.
"It is a concern of the industry when things start to pick up again," Rowley said. "There's certainly a lack of skilled people that have the vocational and technical skills to keep up with the demand of construction."
And that demand comes from government jobs.
"The city recently passed a bond for $20 million for five years," said Ramon Gaanderse, executive director of the Tucson Utility Contractors Association. "But that's really a smidgen of about $800 million that they need to get all the roads in the city of Tucson repaired."
But, while the local government knows the issue infrastructure can represent, they are not the ones who ultimately hold the purse string.
"To do the major road projects, you need the federal government to step in," said Chris Kaselemis, director of economic initiatives for the city of Tucson. "We don't have the hundreds of millions of dollars that's needed to build some of these key roads."
Infrastructure is more than pumping dollars into the economy.
"The more roads, rail, things like that you have...associated with infrastructure...improves your economy," Kaselemis said. "It (also) helps move equipment, move goods and services. So it's not just the jobs, it's the infrastructure itself that's important."
Infrastructure can dictate how industry grows.
"We don't build roads, bridges, airport, infrastructure for infrastructure's sake," Kane said. "We build roads, bridges, and airports, really to guide economic growth."
Projects need to be funded before they can act as economic engine, which ultimately relies on those in the government.
"It's a matter of educating our elected officials and those who work in the public sector that some of the lack of investment does hurt us in the long term," Gaanderse said.
The amount invested by government in infrastructure will determine how economic growth in the future happens.