Listen:
Politically, the Southern Arizona highlight of the National Defense Authorization Act was an amendment by Rep. Ron Barber, D-Arizona, which kept the A-10 airplane flying for another year.
The latest A-10 rolled off the assembly line in 1984, and for the past two year, the Air Force has tried to retire the plane as a cost saving measure.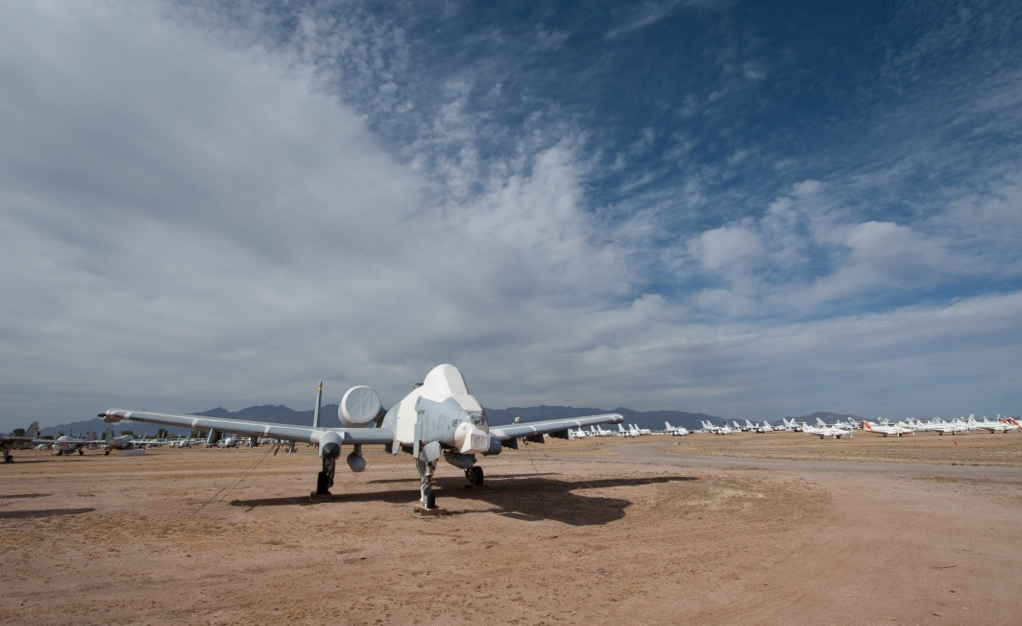 An A-10 in Type-1000 storage at AMARG in Tucson. (PHOTO: Will Seberger)
The fight to keep the plane in the air was about more than just military readiness; it was also about the economy. In 2008, Arizona commissioned a study about the impact of the military on the state's economy, which found that active duty and National Guard units in the state pumped $9 billion into the economy that year.
In 2013, Davis-Monthan Air Force Base released a study of the base's economic impact on Southern Arizona, which was about $1 billion.
The state's study did not include the impact of the military industrial complex, which includes companies like Raytheon.

Latest filings say Raytheon Missile Systems sold $1.5 billion worth of products during the first quarter of this year. And the House Armed Service Committee approved a provision calling for the military's purchase of 96 additional Tomahawk cruise missiles, a weapon system made at the Raytheon facility in Tucson.
Last week, the chair of the House Armed Services Committee put a compromise forward. He suggested putting the plane in Type-1000 storage. But Barber's proposal to keep the A-10 flying was instead adopted by the committee.
Type-1000 storage means the planes would be kept at AMARG, or the Boneyard, in Tucson. The planes could not be cannibalized for parts, and instead they would be stored in a way that allows them to be returned to flight status if the Air Force needs them.
Officials at AMARG say returning the Type-1000 planes to flight status is a process that takes weeks to months. The amount of time is based on how long the planes have been in storage and what upgrades they need to become air worthy again.
Barber and others said the problem with putting the planes in Type-1000 storage is the loss of skills on the part of pilots and those tasked with maintaining the planes.
The full House and Senate still must approve the National Defense Authorization Act.