A former U.S. Attorney from Arizona will be the first Native American woman to serve on the federal bench.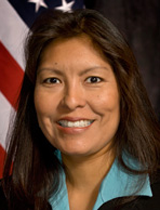 U.S. District Judge Diane Humetewa.
Diane Humetewa won confirmation Wednesday in the U.S. Senate in a 96-0 vote.
She will fill one of six vacancies in the federal District Court of Arizona.
Humetewa currently serves as a special advisor at Arizona State University and in the special counsel in the Office of General Counsel, and is a professor of practice at ASU's Sandra Day O'Connor College of Law.
She served as U.S. Attorney for Arizona between 2007 and 2009, and was also an appellate court judge for the Hopi Tribe.
The National Congress of American Indians praised the confirmation, saying Humetewa has dedicated her time to serving the interests of Native peoples.
The overburdened District Court of Arizona remains one of the busiest in the country, having declared a judicial emergency in 2011.
The Honorable Steven Paul Logan, who currently serves on the Arizona federal court as a magistrate judge, also was confirmed by a 96-0 vote, alongside John Joseph Tuchi, chief assistant U.S. attorney for the District of Arizona.
The Associated Press contributed to this report.