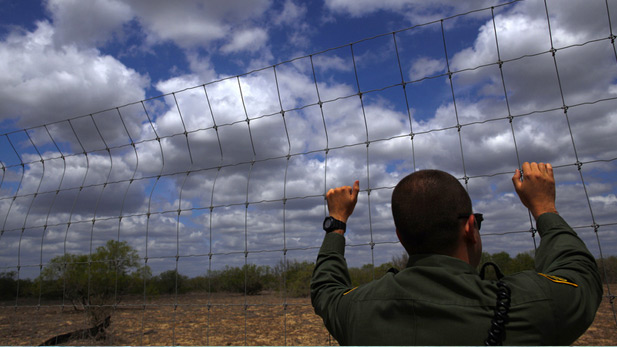 Patrolling the U.S.-Mexico border can be dangerous. Still, critics say there isn't enough public accountability when Border Patrol agents use deadly force. (PHOTO: Eric Thayer/Reuters/Landov)
By John Burnett
NPR
Listen:
A personal injury trial lawyer in Corpus Christi, Texas has filed civil wrongful-death lawsuits against Border Patrol offices and the federal government in the case of of a Mexican man who was shot on the banks of the Rio Grande, near Nuevo Laredo, Mexico.
Bob Hilliard, whose nickname is "The Bulldog," currently represents families in three Border Patrol shootings where the agent was in the U.S. and the victim was in Mexico.
"I also realize their job is difficult, but it doesn't give them license to shoot and kill innocent Mexican nationals," he said. "There's an undercurrent of prejudice that is really just palpable to me, that you can taste, that this isn't a valuable life: 'This is just a Mexican who got show - why the uproar?'" Hilliard said.
The law says a foreign national cannot sue the U.S. government for an injury or death that happens outside the United States, even if it's only a few feet across the border. A federal judge in El Paso threw out one of Hilliard's lawsuits on these grounds; it's now before the 5th U.S. Circuit Court of Appeals.
Last December, The Arizona Republic published the results of a yearlong investigation: It examined 42 deadly shootings by border agents and found that in none of the cases did the officer face administrative penalties.
Last week, the American Immigration Council, an immigrant advocacy group, released a report that compiled the results of 809 complaints of excessive force and physical abuse. In the cases that were resolved, 97 percent led to "no action." Counseling was the discipline in most of the others, said Guillermo Canto, senior policy analyst with the council.
Read the entire story on NPR's website.