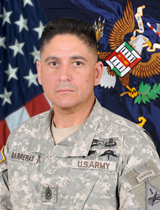 PHOTO: Fort Bliss/U.S. Army
Command Sgt. Maj. Martin Barreras.
The U.S. Army reports the death of a Tucson soldier, who had been stationed in Afghanistan.
Command Sgt. Maj. Martin Barreras died Tuesday at the San Antonio, Texas Military Medical Center of wounds he suffered last week.
The Army said enemy forces attacked Barreras' unit in Harat Province, Afghanistan on May 6, according to the Department of Defense.
The 49-year-old is survived by his wife, two daughters and a son.
He graduated from Sunnyside High School before joining the military, said a Fort Bliss Military Base, home of the team he had been assigned to.