Listen:
Pima County is trying out a contest to discourage young people from tagging public buildings.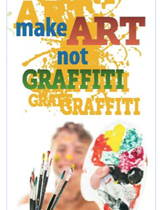 PHOTO: Courtesy of Pima County
"Make Art Not Graffiti" is a new effort by the county's Taking Action Against Graffiti to tackle a "big problem" for the unincorporated areas of Pima County, said Priscilla Cornelio, the county's transportation director.
People ages 9 to 18 can submit artwork that "must be suitable for all audiences and contain no obscenities," by May 30.
A four-member committee of county staff will judge the work based on its creativity, originality, visual impact and communication of the effect graffiti has on the community.
The winning design will receive a $100 gift card and will be featured on posters throughout the county, Cornelio said.
The four runners-up will receive a $25 gift card.
For information and contest rules go to the county's website.