Listen: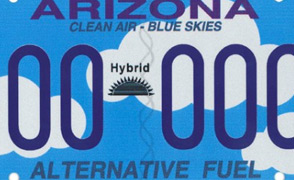 'Clean air-blue skies' Arizona license plate. (PHOTO: ADOT)
Arizona is bringing back special license plates for plug-in hybrid cars.
The Arizona Department of Transportation is again allowing these vehicles to apply for a special license plate that allows them to use the state's HOV - high-occupancy vehicle - lanes, even if there is only one person in the car.
"Anyone with a plug-in hybrid who doesn't currently have an energy efficient license plate would be eligible now to apply to receive the 'clean air-blue skies' plate," said Harold Sanders, ADOT spokesman. "There's only one way to apply, and that's through servicearizona.com."
The clean air-blue skies license plate is capped at 10,000 in the state, and applications will be accepted through September 2017.
During the last release, 1,800 of the special plates were handed out.
For a list of vehicles that qualify for the plates click here.