Listen: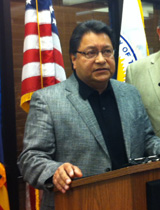 PHOTO: Fernanda Echavarri
Sunnyside School District Superintendent Manuel Isquierdo.
Embattled Sunnyside School District Superintendent Manuel Isquierdo has said he would like to keep his job when two new board members take office in June.
That's different from his remarks two weeks ago when he broke down at a public meeting, and said he wanted the board to buy him out so he wouldn't have to finish the last two years of his contract.
"I think I'm saying I'm committed to working with the new board," Isquierdo said. "I don't think our district can afford it. And I' feel I haven't done anything wrong for me to be bought out."
Isquierdo's change of heart came a week after a recall election led to the ouster of two of his main supporters, longtime board members Louie Gonzales and Bobbi Garcia.
Incoming board members have said they don't want to keep Isquierdo, but buying him out would be too expensive for the district, costing around half a million dollars.
Sunnyside resident Ricky Hernandez, who led the recall campaign against Isquierdo's supporters, said the superintendent no longer has the support he needs to lead the district
"I hope the new board listens to the community very clearly. It is time to fire him," he said.
The reshuffled board will hold its first meeting on June 10.