Listen: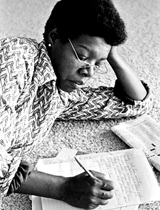 After I heard about the passing of Maya Angelou earlier this week, I wanted to find someone who could share with the Arizona Spotlight audience not just a eulogy, but their own personal connection with Angelou's work.
When my friend and colleague Debi Chess Mabie, the host of Az Illustrated Arts, told me about her favorite poem, I knew she was the right person to ask. Here is what she wrote:
Growing up, Maya Angelou's poem "Phenomenal Woman" served as a compass, a blue print, --and even a permission slip of sorts-- of what it meant to be a black woman, and everything that comes with that.
I mostly grew up in the mid-west in a solidly middle class suburb. From the 4th to the 6th grade, I was the only black kid in my entire elementary school. Not just my class -- but the entire elementary school.
The only reflections of what it was to be a black girl or women came from the women in my home, church, and in the pages of Ebony and Jet magazines. My parents were very intentional about buffering the negative messages of suburban life.
For me, "Phenomenal Woman" was the articulation and affirmation of what I knew to be true of black women.
"Phenomenal Woman" was referenced and quoted often at African American social events in the 80's. It was not until I was an adult I heard a reading of the poem by a white lesbian feminist. It opened a whole new meaning and understanding of Maya Angelou and her poetry that, up until that point, I had felt was meant only for me.
I feel I have a special relationship with "Phenomenal Woman"…
- Debi Chess Mabie, May 29th, 2014