Listen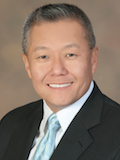 Trauma surgeon Dr. Peter Rhee was thrust into the national spotlight in 2011 after the shooting of then-Congresswoman Gabrielle Giffords and 18 others in Tucson.
Rhee was the head trauma surgeon at the University Medical Center, and also became the hospital spokesman during Giffords' recovery.

His new book, Trauma Red, details his life as a young immigrant in the U.S., and the rising need for his profession due to the increase in gun violence nationally.