Listen: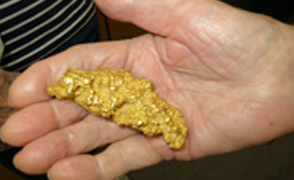 PHOTO: UA Police Department
A gold nugget valued at $30,000 was stolen from the University of Arizona's Flandrau Planetarium over the weekend.
The UA Police Department is urging the public to come forward with information regarding the piece.
UAPD Sgt. Filbert Barrera said the purpose of the Flandrau exhibit is for the audience to interact with certain items, so people often had contact with the nugget.
"I want to make sure for people to understand...this piece of material...this piece of metal was part of a exhibit that is meant for interaction and education so it is not uncommon for it to be touched by people..." he said.
Barrera was not able to share specific information about how the crime occurred.
He said he hopes people will contact the department, and help with the investigation.
"What I can tell you is that we are looking for the public assistance in helping, providing information in this case, we are hopeful the media attention will provide support to us, and provide leads that we can follow up on," he said.
He said to call 88-CRIME if anyone comes across the gold nugget.