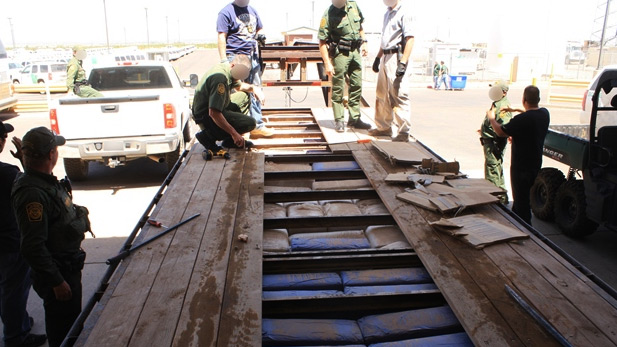 PHOTO: U.S. Customs and Border Protection
Flatbed trailer with hidden compartment filled with about 3,200 pounds of marijuana found at Douglas border.
Tucson Sector Border Patrol seized a truck disguised as a U.S. Fish and Wildlife Service vehicle filled with more than 3,200 pounds of marijuana, a press release from U.S. Customs and Border Protection said.
The flatbed truck had fake decals, which agents called a creative attempt by smugglers to get illegal drugs into the U.S.
Douglas station agents were working east of town, and responded to reports of suspected smuggling activity, which lead to the location of the vehicle driving alongside the international border fence in Douglas, the press release said.
The agents tried to make contact with the driver, but the truck came to a sudden stop and two people fled into Mexico.
About $1.6 million worth of marijuana was loaded in bundles hidden in compartments, the release explained.