Listen: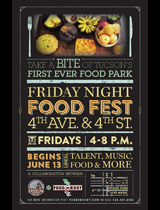 Design by AAD.
Beginning this Friday evening, vendors and artists will set up on Fourth Avenue for the first Food Fest, a street market that aims the be a weekly tradition in the district.
Clayton Kammerer and Jarod Keane run the Food in Root, and they've opened five new farmer's markets around Tucson during the last few years.
Now, the organization is attempting to change the image of the slow-paced weekend morning market by bringing vendors to one of the city's busiest business districts.
Keane said he believes the area could benefit from an event like this.
"We looked at what the crowd might be like and what might suit Fourth Avenue, and we thought (it should be something different like a) Friday night where people can come down, buy something to eat, and relax and maybe kick off their night on 4th Avenue a little earlier," he said.
Keane said vendors will have both fresh produce and prepared foods available.
The 4th Avenue Food Fest begins with a soft opening Friday evening.