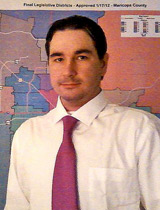 PHOTO: Facebook
Scott Fistler, who is now known as Cesar Chavez, is a former Republican now running for a seat in Arizona's Congressional District 7.
The grandson of Cesar Chavez is challenging the candidacy of an Arizona congressional candidate who has been using the farm labor leader's name.
Alejandro Chavez filed a legal complaint Tuesday in Phoenix, asking that Scott Fistler be removed from the Democratic primary ballot.
The Arizona Capitol Times reports Fistler, a former Republican who has lost two bids for elected office, legally changed his name to Cesar Chavez last December and his party affiliation in April.
Fistler, now Chavez, is running for a seat in the heavily Democratic 7th Congressional District.
In court documents, Alejandro Chavez alleged he misled voters by gathering signatures to get on the Aug. 26 ballot before officially registering as a Democrat.
A message left with the candidate seeking comment Wednesday was not immediately returned.