Listen:
State Rep. Ethan Orr, a Republican in Tucson's District 9, will go to court next week to defend his position on the ballot later this year.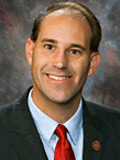 State Rep. Ethan Orr.
A Democrat from the district Orr represents filed a challenge to the signatures Orr turned in to qualify for reelection.
He needed 346 signatures from registered Republicans who live in the district that includes parts of Tucson north of Speedway Boulevard, south of Skyline Drive, and east of Interstate 10.
Orr turned in 634 signatures, but lawyer Jeff Rogers, who represents the voter challenging Orr's signatures, said about 290 of them were not eligible to count toward his nominating petition.
"The law is that you have to have a certain number of valid signatures to qualify for the ballot," Rogers said. "If you can't qualify for the ballot then you shouldn't be on the ballot."
Orr said he is confident he has enough signatures to stay on the ballot. If 15 signatures that are illegible are verified, he said he will qualify. He does not have a primary challenger from the Republican Party. If he stays on the ballot, he will face two Democrats in the race for two seats in the state House of Representatives.
"The whole case really is going to come down to whether a dozen or so signatures are legible," Orr said. "A lot of the signatures they're claiming are invalid are for technical reasons."
Orr said he is confident enough signatures that are hard to read or slightly out of place on the petition form will be deemed eligible.
The Pima County Democratic Party, or members of the party, regularly go through candidate signatures to see if there are problems and then challenge a candidate in court, said Rogers, a former chairman of the county party.
The case will go to Pima County Superior Court June 18, and a judge will decide. Both sides said they are prepared to appeal an unfavorable decision.