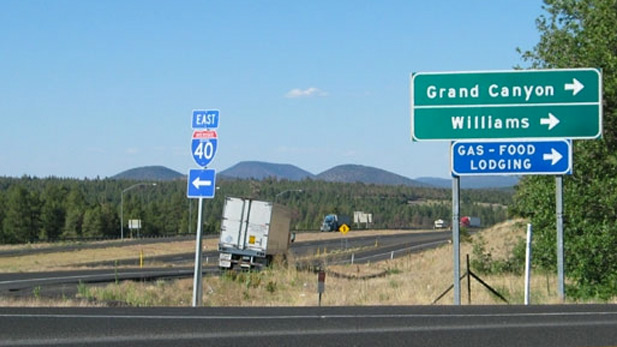 Story by Laurel Morales
Fronteras Desk
Listen:
The town of Williams in Northern Arizona is running out of water. City officials have recently issued severe water restrictions and cut building permits after seeing the local reservoir all but dry up.
"It's a drought, we've had no rain," said Williams Mayor John Moore. "We had a few drops a week, 10 days ago. We haven't had any snowfall all year. That's where most of our water comes from, those mountains that we're standing here looking at. That's where our snowmelt comes, fills our lakes. That didn't happen this year."
The town also sits above a plentiful aquifer, but Moore said the city is pumping its two wells to capacity.
Digging a new well can cost up to $1 million.
"They tell us there's a lot of water," he said. "It's finding the exact location to put a well, then you gotta go 35-3,600 feet and that's a lot of drilling, a lot of work, then you gotta pipe it out. It's a big undertaking but it's one we must do."
The city will fine residents who use drinking water outdoors, and water rates will double for households that use more than their monthly rate. Moore said he is confident the drought is temporary. Nothing to cause alarm.
But climate experts say we could be in the middle of what's called a mega drought. Ancient tree ring samples show that arid parts of the world have experienced droughts the last decade.
Bill deBuys, an environmental historian, said that's on top of climate change.
"When those droughts come they'll be more severe because they'll be hotter," he said. "So that's kind of a double whammy that's hanging out there."
Williams isn't alone. Last year, the town of Magdalena, N.M., ran out of water. And deBuys said small towns like these suffer more than large cities.
"The vulnerability of small cities is they are not connected to large agricultural districts," he said.
Having agricultural rights is the ticket to water in the Southwest. But deBuys said he predicts large cities, such as Phoenix and Albuquerque, will someday be forced to lease water rights from Indian tribes.
In short term, residents in Williams are hopeful El Niño will bring the rains they so desperately need.