A challenge to state Rep. Ethan Orr's, a Republican of Tucson, re-election bid is being dropped.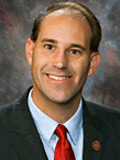 State Rep. Ethan Orr.
A Democrat from Orr's district, which includes parts of Tucson north of Speedway Boulevard, south of Skyline Drive, and east of Interstate 10, filed a challenge last week saying Orr's nominating petition lacked enough valid signatures.
Lawyer Jeff Rogers, who represents the plaintiff, dropped the lawsuit on Friday after the Pima County Recorder's Office reviewed the signatures on Orr's petition.
There were 241 signatures thrown out, but Orr still had more than the 361 necessary to make the ballot.
The case had been scheduled to go to Pima County Superior Court June 18.
The first-term Republican will face Democrats Rep. Victoria Steele, a first-term incumbent, and Randy Friese for Legislative District Nine this November.