Listen:
The Arizona Department of Transportation is putting forth a draft of the Interstate 11 corridor study, and is asking for public comment.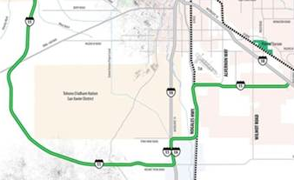 PHOTO: Pima County
Proposed I-11 bypass west of Tucson.
ADOT will hold a final Tucson meeting Wednesday night from 6 p.m. until 8 p.m. at Tucson Electric Power's Community Room.
The gathering will include a presentation on what has been earned in the early planning stages of I-11 and the Intermountain West Corridor project.
Two more meetings will be held in Phoenix and Las Vegas, N.V. this month. Online comments will be accepted through July 18.
Laura Douglas, news operations manager/media relations at ADOT, said once the public comment period is concluded and the study is finalized, the state will need to find money for further phases, which could add up to as much as $10 billion.
"A lot of it really depends on funding," she said. "Arizona needs to go through the Environmental Impact Statement process, and that's going to be a study that will cost $60 million."
For the past two years, Arizona and Nevada's departments of transportation have studied the possibility of linking Phoenix and Las Vegas with an interstate highway, and eventually extending that route from Mexico to Canada.