Nancy Rosenbaum is a freelance producer based in Minneapolis, Minnesota. She wasn't planning on doing any radio stories during her recent road trip to Arizona, but when she visited one of Tucson's most famous destinations, she met someone who changed her mind...
Listen:
Story by Nancy Rosenbaum

Abe Lackow has a voice of Brooklyn, or maybe the Bronx. It's not a voice I expected to hear with such booming clarity in the heart of the Arizona desert.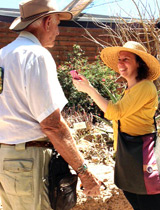 Nancy Rosenbaum interviews Abe Lackow at the Arizona-Sonora Desert Museum. (PHOTO: Nicki Adler)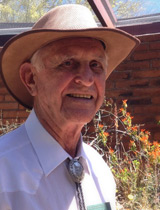 Abe has been volunteering at the museum for 25 years. (PHOTO: Nancy Rosenbaum)
I met Abe at on the outskirts of Tucson at a place called the Arizona-Sonora Desert Museum. I immediately noticed his bolo tie and turquoise-silver bracelet. Whatever stickball-playing, outer-borough New Yorker he'd might have once been, had given way to a newer Southwestern self. Abe was clearly thriving in this desert habitat.
I noticed that Abe was wearing a name tag that said "Docent." He appeared to be some kind of park ranger. I had to find out what he was doing in this outdoor nature center, surrounded by cactuses and rattlesnakes.
Abe is now in his sunset years. He told me he's always had a passion for "living things, breathing things…even plants." These weren't the fodder of his paid career, but that doesn't matter anymore. Now Abe gets to spend his days talking to people about hummingbirds and snakes. And what could be better than that?
For more of Nancy Rosenbaum's stories, visit her website.