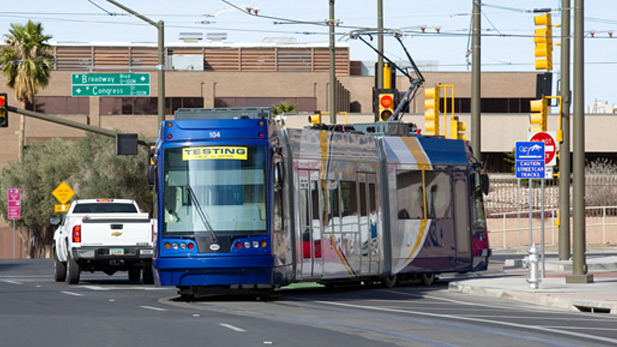 PHOTO: City of Tucson
Listen:
Tucson is offering free 30-day passes to the new streetcar line later this summer for people affiliated with the University of Arizona, in an effort to get people to use the new transit system.
The offer is for all UA employees and students because the four-mile streetcar is expected to cater to the university community, said Shellie Ginn, Tucson's streetcar project manager.
"We're working with the University of Arizona to really encourage students to ride the streetcar, recognizing that we're anticipating over 50 percent of our ridership to come from the University of Arizona," she said.
No other employer-based free passes are scheduled, but many large employers offer discounts for transit passes, she said.
"I would encourage anyone that's in large businesses to check with their employers to see if they have incentives in place for use with transit passes," she said.
Any Sun Tran bus passes or Sun Link streetcar passes will work on either system, she said, including transfers.
"That pass is also good to ride on the streetcar as well, and vice versa," she said. "If you purchase a one-day pass that's available in the ticket vending machines along the streetcar line at any of our 23 stops that one-day pass is good to ride on the Sun Tran bus system as well as on the streetcar system."
The city will allow all people to ride the streetcar for free the first three days it operates: July 25, 26 and 27.