(VIDEO: azpm)
Tens of thousands of unaccompanied Central American children have been apprehended trying to cross into the United States illegally in recent weeks, setting off a domino effect of emergency shelters across border states, including Arizona, to temporarily house them.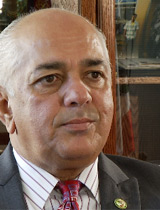 Nogales, Ariz. Mayor Arturo Garino. (PHOTO: AZPM Staff)
But, according to Nogales Mayor Arturo Garino, the real crisis is in these children's native countries. During Friday's broadcast of Arizona Week, he asked, what is wrong in Guatemala, El Salvador and Honduras that is fueling these children to embark on a dangerous journey to the U.S. alone?
"I hope we can have some type of communication with these three countries to find out what is happening," he said. "We can find ways of how to help here, but lets find out what is happening at the point of origin, because if it is going to continue, we have to be at the top of it."
"What is the issue? What is the problem over there? I have heard there is persecution, crime in these countries that maybe they are fleeing, but we need to help," Garino said.
Garino said as a father and grandfather, he cannot image having one of his grandchildren embark on a trek of that type alone.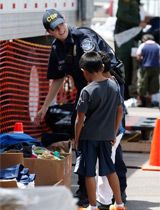 A U.S. Customs and Border Protection agent helps child get clothes. (PHOTO: The Associated Press)
"I don't understand why the children ... from the age of 4 to 17, I couldn't understand how a child like that could travel thousands of miles from their country of origin to the border of Texas," he said.
A Nogales Border Patrol station was established as a shelter for children, who were initially apprehended in the Rio Grande Valley in Texas. Starting June 6, the approximately 120,000-square-foot warehouse has housed about 1,000 kids.
The Federal Emergency Management Agency equipped the facility with bedding, portable toilets and showers, and officials say children get three meals a day.
Garino said he applauds Border Patrol and the town of Nogales for how well they have responded to the influx. The city even hosted a clothes drive for the children, he said.
"I had gotten the call on Thursday, and the following Monday is when I toured it ... logistically what the Border Patrol did to their station, which is not a detention center, and turned it into a processing center, is unbelievable," he said.
No one is sure how long the Nogales shelter will be in place. Garino said it could go past September. In the meantime, he said, the situation should be treated with sensitivity.
"We have to look after these children, now that they are here," he said. "Let's find a solution and figure out what we are going to do."
Children sleep on 4-inch mattresses in one of the shelter's holding areas. (PHOTO: The Associated Press)