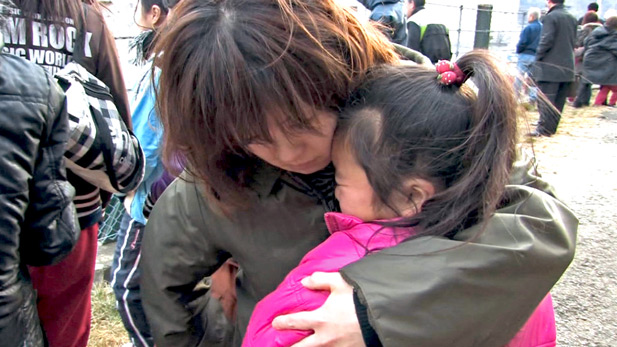 Refugees comfort one another.
The earthquake that hit the northern coast of Japan on March 11, 2011, was recorded at magnitude 9.0 — the worst ever recorded in Japan. It generated an unprecedented tsunami, obliterating coastal villages and towns in a matter of minutes. In some areas, the tsunami climbed over 100 feet in height and traveled miles inland. Amazingly, amateur and professional photographers captured it all on video, including remarkable tales of human survival, as ordinary citizens became heroes in a drama they never could have imagined. Their stories are captured in video and retold after-the-fact by the survivors who reveal what they were thinking as they made their life-saving decisions.
Surviving the Tsunami: A Nova Special Presentation, Wednesday at 10 p.m. on PBS 6.