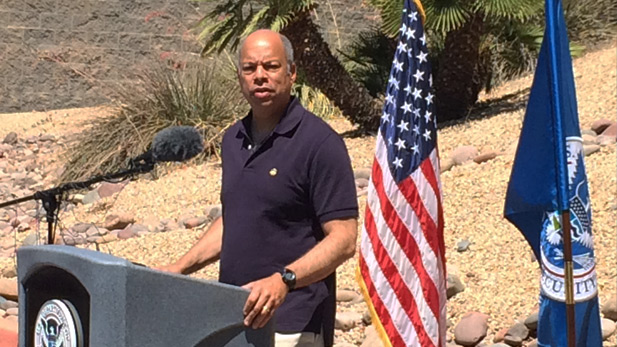 Homeland Security Secretary Jeh Johnson during a news conference in Nogales, Ariz. (PHOTO: Christopher Conover, AZPM)
Listen:
Homeland Security Secretary Jeh Johnson got a tongue lashing from Gov. Jan Brewer during a visit Wednesday to tour the Nogales shelter housing about 1,000 Central American children.
"Dang it the federal government has a job to do," Brewer said during a press conference after the tour.
Brewer also asked Johnson a series of questions.
"How long is it gonna last? What is it costing us? Are the feds going to continue down this path? Pouring millions and millions and millions of dollars, or are they going to secure the border?" she asked.
After his news conference, Johnson did not stay to listen to the governor's comments.
When he met with reporters, he said he is open to suggestions when it comes to dealing with the growing number of children apprehended trying to cross the border illegally.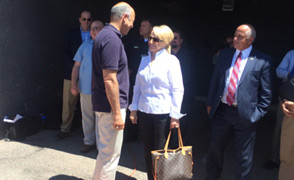 Homeland Security Secretary Jeh Jonson and Gov. Jan Brewer at Nogales immigrant children shelter. (PHOTO: Christopher Conover, AZPM)
"I've told my staff that I want to hear all lawful options in dealing with this situation," he said in the news conference. "I believe with this...government approach and in cooperation with governments of Central America. And we are in discussions with them now about this, and with the government of Mexico and with the support of Congress, we can stem this tide."
The secretary also repeated a familiar refrain for parents in Latin America.
"This journey is a dangerous one. There is no free pass, no permisos for children, for your children who come to the United States," he said.
During the tour, Johnson and Brewer sat down in what was described as a formal session to talk with six of the children: three boys and three girls.
"It is frustrating for us to go in there and look into their eyes, to see the hurt, to see the trauma that they've been put through," Brewer said.
Johnson added the federal government is focused on dealing with the children as quickly as possible.
"We're quickly building more detention space for adults that bring kids into this country, and developing a process of expedited removal for the parents who bring their kids into this country," he said.
Despite that, Brewer still seemed angry.
"It is deplorable, it is outrageous, and the bottom line is I believe that it has been a federal government manufactured crisis," she said.
It is expected that Border Patrol will have to continue holding children at the Nogales facility at least through the end of the summer.
Children, mostly from Guatemala, El Salvador and Honduras, started arriving to the 120,000-square-foot warehouse on June 6, after being apprehended crossing into the U.S. illegally through Texas' Rio Grande Valley.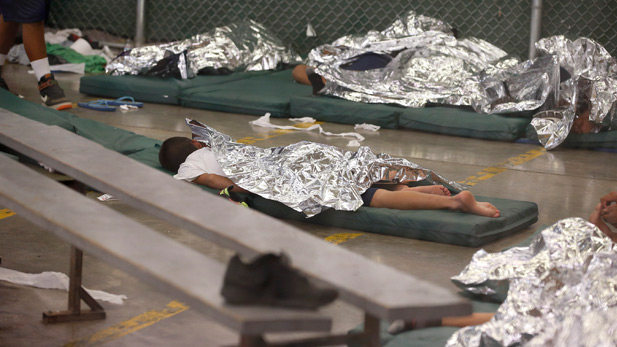 Child sleeps in one of the holding areas for Central American kids shelter in Nogales, Ariz. (PHOTO: AP)