Aphasia Center of Tucson
Listen: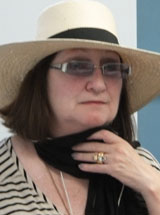 Alex
One typical day in January, Alex was working at her job as the director of environmental studies for Cochise County. Five months later, she was in a hospital bed unable to move or communicate as she had before. A stroke had changed Alex's world forever. Beyond the physical toll, the impairment of her ability to express herself was devastating.
Aphasia is a language disorder that can be the result of damage to the left side of the brain, usually from a stroke, an infection, or a head injury.
Recovering lost ability in speaking, reading, writing, or using numbers is a lengthy process. Speech pathologist Fabi Hirsch brings more than two decades of experience with language difficulties to bear on the problem every week at the Aphasia Center of Tucson, a program of the Saguaro Center for Speech and Language.
"I think when most people come here for the first time it's very much of a relief to find out that they're not alone because so few people know what aphasia is," Hirsch said. "If they've been diagnosed with aphasia, it's likely they don't know anyone else who has aphasia. So to come into an environment that is filled with people who have the same kinds of experiences, and the same struggles, and are really working to improve their skills -- I think is a relief, first of all, and then just a really motivating environment to continue working on communication skills."
The Aphasia Center offers classes designed to come at the disorder's root difficulties from many different directions.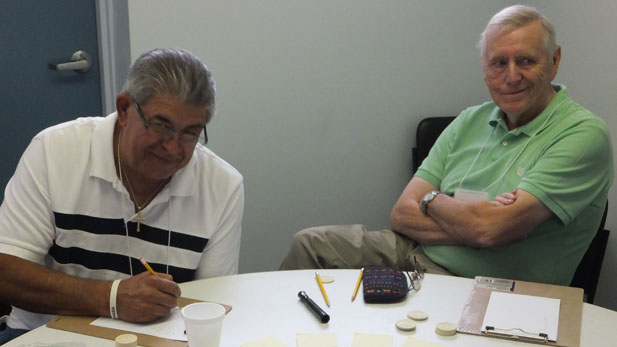 Manny and Mick in class at the Aphasia Center of Tucson
"The communication strategies group is designed to work on skills for when they're having a hard time coming up with the word," Hirsch explained. "So if you can't get to the word, what else can you do - can you draw a picture that will help us? Or can you maybe write the first letter, can you gesture? Most of us tend to want to rely solely on speaking. We practice working on other strategies so that the group members become more familiar with different strategies, and hopefully incorporate them into their daily lives."
For Alex, a pen and a notepad became valuable tools. Writing the first letter of a word helps her to concentrate on what she is trying to say. Alex used her pad to tell me how long she was in the hospital following her stroke: the number "1" symbolized January, and the number "5" was a stand-in for May. With some patience and understanding on her part, I got the clues and our conversation flourished.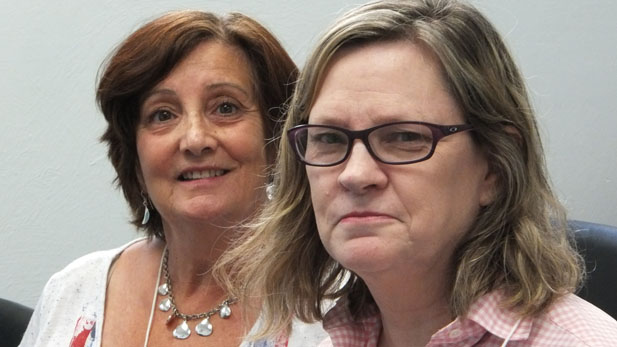 Shelley and Heidi have become close friends after meeting at the Aphasia Center of Tucson
Hirsch encourages each group member to find individual strategies to help them solve their communication problems. She adds that sign language is not usually a practical option, for many reasons.
"You will see a lot of people here who do have weakness in the right arm, right leg, sometimes even on the right side of their face," Hirsch said."You might see it in their smile is not quite as strong on the right side. That's because the language areas are actually in the left side of the brain. There's a crossover in the neurological system going from the left hemisphere of the brain to the right half of the body. So when you have language difficulties because of damage to the left side of the brain you often see weakness on the right side of the body, sometimes seeing far to the right, things like that."
The supportive atmosphere at the Aphasia Center provides a low-stress environment where adults with aphasia can help themselves, and each other.
"I think they're the biggest supporters of each other, but they're also big critics," Hirsch added. "They call each other out if they make mistakes and try to help each other along. When they have successes they are the first to pat each other on the back, say "good job." They're very aware of how hard it is, so I think they even come at it with a little more insight than any of the group leaders can."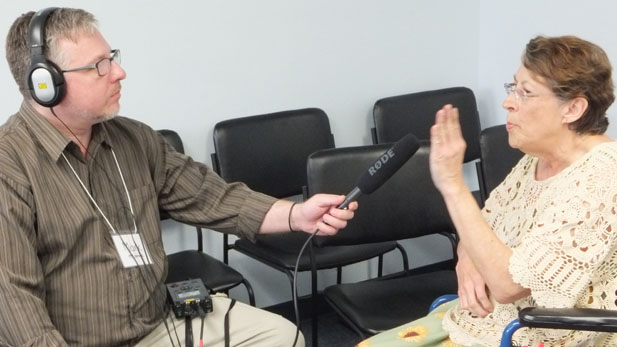 Mark McLemore interviews Charlotte about her ongoing recovery from aphasia that was caused by a series of strokes