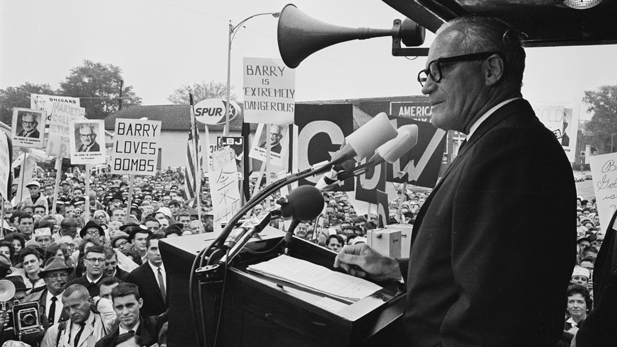 PHOTO: PBS
September 29, 1964 – Marietta, Ohio: U.S. Senator Barry Goldwater spoke to an estimated crowd of 5,000 persons here, his 1st stop of his five-day three-state campaign tour.
Listen:
Arizona legislators commissioned a statue of former senator and Republican presidential candidate Barry Goldwater to be installed at the National Statuary Hall in the U.S. Capitol.
Sonoita-based artist Deborah Copenhaver Fellows' delivered the finished statue earlier this year. The bronze Goldwater has stood frozen in the state Capitol since.
And he'll remain there until the Arizona Historical Advisory Commission raises the money to pay for his transport cross-country and installation in Washington.
Joan Clark, director of the Arizona State Library and a librarian, said the legislature prohibited the use of any public funds in the creation or transport of the Goldwater statue, so the historical advisory commission has been tasked with raising funds.
Clark said the group needs up to $70,000 to move Goldwater to his new home.
Each state is allocated space for two sculptures in Statuary Hall. Arizona currently displays Father Eusebio Francisco Kino and mining magnate John Campbell Greenway. Greenway will return to Arizona to make space for Goldwater.
"Not to diminish in anyway Greenway's relevance and importance," Clark said. "But because of Barry Goldwater's contributions to the state and his political significance, the legislator thought it would be important to try to put him in there."
Once the money is raised, it will take four days to transport the 1,700-pound statue to D.C.
For more information visit the state Historical Advisory Commission's website.