Listen:
President Barack Obama said he is done waiting for House Republicans to act on immigration reform and plans to fix as much as he can on his own.
Obama announced his intention to take executive action Monday, weeks after an influx of unaccompanied minors from Central America were apprehended crossing the border illegally in Texas.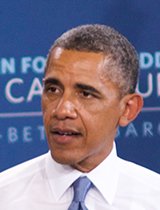 (PHOTO: Yoohyun Jung)
Members of Arizona's congressional delegation had mixed feelings about the announcement.
U.S. Sen. Jeff Flake said in a written statement that "dismissing legitimate concerns raised by House Republicans gets the process nowhere."
He added the president's plans "lessened the prospects of fixing our broken immigration system."
U.S. Rep. Raul Grijalva said the announcement was a welcomed first step. Success, however, will depend largely on what happens next.
"Sending more enforcement to our borders will do nothing for the men, women and children who are caught up in our broken system, nor will it provide a humanitarian solution to the crisis of child refugees arriving from Central American," Grijalva argued. "I look forward to the president's next steps, and urge him to focus his efforts on protecting vulnerable families going forward."
The more than 90 percent increase in teens and children crossing the border without parents overwhelmed the federal government.
"We now have a humanitarian crisis on the border that only underscores the need to drop the politics and fix our immigration system once and for all," Obama said.
Thousands of children have been entering and leaving a processing warehouse in Nogales, Ariz., where they are staying for three to five days before going to shelters across the country. The young kids and teens sleep on four-inch mattresses on the floor and are separated by age and gender with 15 foot-tall chain linked fences with razor wire at the top.
Obama is seeking $2 billion from Congress to help handle the unaccompanied minors and has asked for additional Border Patrol resources to be sent to the border with Mexico.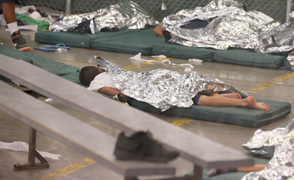 Inside the Nogales shelter in June 2014, children sleep on mattresses on the floor. (PHOTO: AP)
"Our Border Patrol agents must no longer be tasked with providing childcare to unaccompanied immigrant children. They must be returned to their job of securing the border," said U.S. Rep. Ron Barber. "Our state must not bear the expense of this failure of leadership and inaction in Washington. Arizona, towns, cities and agencies must be reimbursed for the services they provide because the federal government has failed to secure our border."
There are enough Republicans and Democrats in the House to pass an immigration bill today, Obama said, but House Speak John Boehner informed him last week that the House will not vote on immigration reform this year.
Obama announced he has instructed Homeland Security Secretary Jeh Johnson and Attorney General Eric Holder to present him with executive actions he can take without congressional approval by the end of the summer.
Still, in responding to the influx of unaccompanied children, Obama plans to concentrate immigration resources on the border areas. The move will effectively further reduce the number of deportations in the country's interior by stressing enforcement action on individuals who are either recent unlawful border crossers, or who present a national-security, public-safety or border-security threat.
The decision coincides with a White House request to Congress for new powers to deport newly arrived immigrant children traveling without their parents.
The Associated Press contributed to this report.