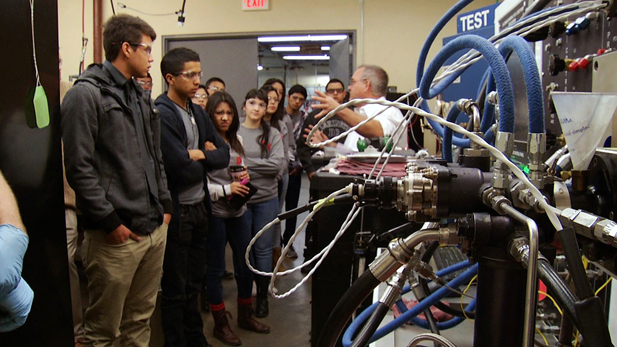 PHOTO: AZPM Staff
High school students tour Tucson's American Turbo Systems, where tech jobs are in demand.
Listen:
A new Brookings Institution report shows Tucson jobs in the science, technology, engineering and math fields are not being filled due to a lack of skilled employees.
In the first quarter of 2013, companies around Tucson had more than 3,000 vacant STEM positions.
Jonathan Rothwell, lead author of the Brookings Institution report examining advertised jobs at the time, said those vacancies can be a bit of a double-edged sword.
"You want to be in a place that has a lot of demand because that means businesses are growing and the economy is doing well overall," he said. "And yet you also want to have a strong supply of skilled workers, so that when that demand is growing, the regional labor force can provide the bulk of the workforce needed."
Of the 100 largest metro areas in the United States, Tucson had the 35th longest time for jobs being posted.
"Ultimately, employers are going to want to look elsewhere if they feel like they can find the skilled workers they need," Rothwell said.
He said he believes the key to a skilled workforce is education.
"Really the only way to address this is by continuing to invest in education, and improve graduation rates at community colleges and four-year colleges, and ultimately increase the supply of skilled workers in the region," he argued.
Rothwell's report showed more than half of the vacant STEM jobs require more than a high school diploma, but less than a bachelor's degree.
That is a sentiment that Alan Storm, superintendent of the Pima County Joint Technical Education District, echoes.
"We've been running with the assumption that ever kid should go to college, and we know that that's not true, we know that every kid doesn't go to college," he said.
JTED is a school system aimed at giving high-school-aged students the skills they would need for many of these jobs.
"There are tons of jobs for those who are less skilled or more skilled, yet not educated at a level of post-secondary or college that need to have people filling those jobs," Storm said.
Employers are also interested in increasing the number of those who are qualified to fill STEM job vacancies.
"STEM education, or science technology, engineering and math is high on our priority list. The bulk of our community outreach is focused in fostering student interest in these disciplines," said Raytheon's John Patterson. Raytheon is the largest private employer in the area.
The company is routinely trying to find skilled STEM workers.
"It's not good when China and India graduate more engineers every year than the United States. It's tough for Raytheon, it's tough for anybody in a technology industry," he said.
Raytheon executives say they do not want to move the company from Tucson. They do what they can to ensure their next generation of engineers is coming from the area.
The company has developed programs, such as Math Moves U, which aims to inspire children to stay interested in STEM subjects. The company also asks its employees to volunteer time with high school and middle school students, acting as math tutors for students who need help.
"Because that's really our future. It's our talent pipeline and we need young people to choose those careers so that they can be the work force of tomorrow," Patterson said.
These jobs also mean a higher standard of living in Tucson.
Rothwell said that's a high rate of pay for a level of education that is not hard to attain.
"They're highly skilled jobs but they don't require four years of post-secondary education. Some cases, one year of training, or two years of training at a community college is sufficient to get into these high paying, high demand careers," he said.
The study found that a person qualified for open STEM jobs in Tucson could expect to earn nearly $60,000 a year.
Notably higher than Tucson's median income of $37,000 a year.