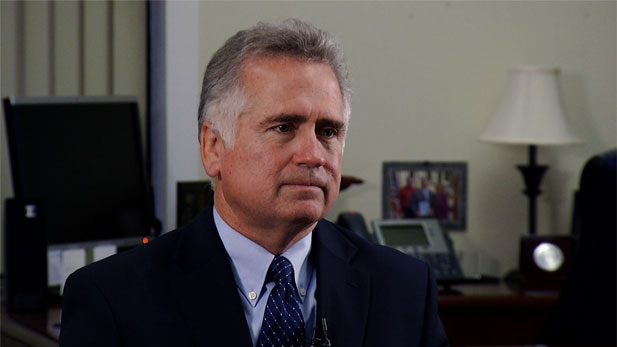 PHOTO: AZPM Staff
John Huppenthal, state superintendent of public instruction, is running for re-election this November.
State Rep. Bruce Wheeler of Tucson is among the Arizona Legislature Democrats who urge Superintendent of Public Instruction John Huppenthal to resign from his position.
A group of senators and representatives signed a letter Thursday, which was then delivered to Huppenthal's office, a media release from the Arizona House Democrats said.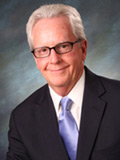 State House Minority Leader Bruce Wheeler, D-Tucson.
The demand comes weeks after news that Huppenthal had posted controversial comments on a blog under two pseudonyms.
"The comments Superintendent Huppenthal made were disrespectful, inappropriate and dehumanizing," Wheeler said in the release. "He also attempted to deceive the public by promoting these statements anonymously and from an office provided at taxpayer expense."
"It is untrustworthy behavior," the House minority leader said.
In one post, Huppenthal wrote, "Obama is rewarding the lazy pigs with food stamps (44 million people), air-conditioning, free health care, flat screen TVs (typical of 'poor' families)."
He also compared Planned Parenthood founder, Margaret Sanger, to Adolf Hitler, saying she was responsible for feeding "16 million African Americans into abortion mills."
In the release, Wheeler said Arizonans should expect the state superintendent to be a role model for the education community and that Huppenthal had failed at that.
"The majority of Arizonans support and embrace diversity," Wheeler said. "That is why Huppenthal's comments were so shocking. it is time for him to step down and allow a more trustworthy public servant to lead our school system."
Last week, Huppenthal apologized during a press conference and then burst down in tears.
The Arizona Republican Party hasn't denounced Huppenthal, and is not considering to drop him from his re-election race, party spokesperson Tim Sifert said last week.
Huppenthal has one opponent in the Aug. 26 primary, Republican Diane Douglas of Sun City.