(PHOTO: Jim Blackwood)
With its arid climate, vast amount of open land, and diverse mix of native cultures, Arizona has everything for a "recipe of success" in archeology, as described by Patrick Lyons of the Arizona State Museum.
Listen:
Since 2013, Lyons has focused his expertise with Arizona archeology as the director of the Arizona State Museum. That appointment followed Lyons' seven years as a member of Arizona State Museum's faculty, and a long history with studying and curating the museum's artifacts when he was an employee of Archaeology Southwest.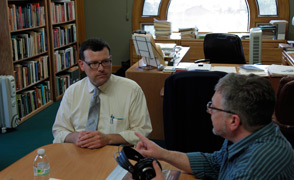 (PHOTO: Jim Blackwood)
A Chicago native, Lyons first visited the Southwest as a graduate student in search of fieldwork in archeology - a passion he links back to his grandfather's appreciation of National Geographic, books, and museums. Lyons said that he "fell in love with the Hopi Mesa archaeology."
"Arizona has one of the highest percentages of federal land in the west, and lots of Indian reservations have helped to preserve a lot of archaeology," Lyons said. "The presence of many diverse, strong, and vibrant American Indian cultures here in the Southwest, groups of people who still practice their traditions and have a strong sense of connection to their ancestors and those archeological resources."
Today, the museum is the official archaeological repository for the state of Arizona, which encompasses more than 9.5 million acres. "We are the largest and busiest non-federal archeological repository in the United States," Lyons said.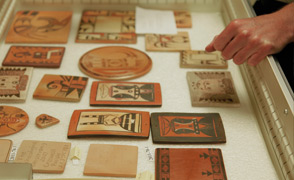 (PHOTO: Jim Blackwood)
"We also have really terrific partnerships that extend into the realm of repatriation, which is a responsibility that I personally, and that the Arizona State Museum as an institution, takes very seriously," he said. "Under state and federal law we have responsibilities to descendant communities to develop inventories of objects that may be subject to repatriation, and to go through a consultation process and a claims process that ultimately usually results in the transfer of materials to descendant communities."
Lyons believes that our clearest picture of the past can only be drawn when archaeologists and tribal members work together.
"That process is also very valuable for them (members of Hopi Tribe), for the reason that archeology records a lot of information in lots of detail about their ancestors past that are not accessible through tribal oral tradition, or religious knowledge," he said.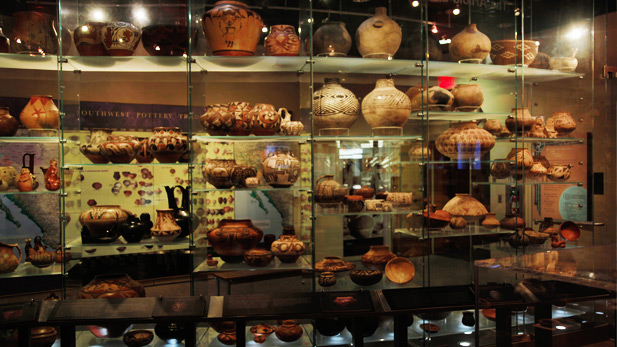 (PHOTO: Jim Blackwood)