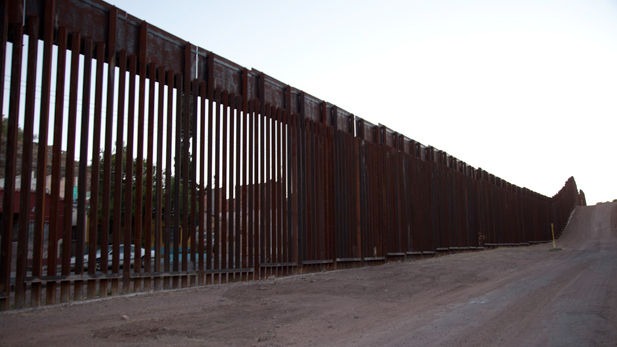 PHOTO: Fernanda Echavarri, AZPM
The fence separating the U.S. from Mexico in Nogales, Ariz.
In response to President Barack Obama's recent announcement he'll be using executive order to deal with the country's damaged immigration system, Gov. Jan Brewer says Obama should obey the rule of law.
"I think that he should take into account what his job is and what the Congress account is," she said to AZPM's Christopher Conover. "He gave a very hyper-political partisan speech delivery at his press conference, which I don't think that the majority of the American public agrees with."
Last week, Obama announced he is no longer waiting for Congress to act on immigration reform, and that he plans to fix as much as he can on his own for the remainder of his final term.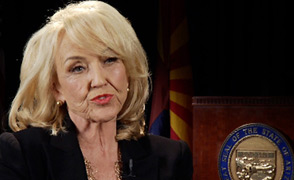 PHOTO: AZPM Staff
Gov. Jan Brewer.
"He decides what he wants, and moves forward with an executive order to give citizenship through amnesty to people that are crossing our border illegally and that is wrong," Brewer said. "And I don't think that Congress will ever agree with him."
Members of Arizona's congressional delegation had mixed feelings about the announcement.
U.S. Sen. Jeff Flake said in a statement early last week that "dismissing legitimate concerns raised by House Republicans gets the process nowhere." He added the president's plans "lessened the prospects of fixing our broken immigration system."
U.S. Rep. Raul Grijalva said the news were a welcomed first step. Success, however, will depend largely on what happens next.
"Sending more enforcement to our borders will do nothing for the men, women and children who are caught up in our broken system, nor will it provide a humanitarian solution to the crisis of child refugees arriving from Central American," Grijalva argued. "I look forward to the president's next steps, and urge him to focus his efforts on protecting vulnerable families going forward."
Brewer said she is content the Obama administration is at least acknowledging that there is a border crisis, particularly after tens of thousands of unaccompanied minors from Central America have been apprehended trying to cross into the U.S. illegally in past weeks.
The governor has repeatedly argued this was manufactured by the Obama administration.
"The word on the streets down in Central America is the fact is if you come across our borders, you turn yourself over to the Border Patrol, you get to stay in the United States," she said.
In the past, Brewer attempted to gain control of immigration policies on a state level. That was denied.
"The (U.S.) Supreme Court ruled it was a federal issue, immigration, and so the bottom line is the Obama administration needs to take into account the oath that they have taken, obey the rule of law, and enforce the rule of law, secure our borders and then maybe something can get accomplished."
Immigration-wise, the governor said she's foreseeing more actions from the Obama administration that she and many will disagree with.
"I am suspecting that we are going to see a lot of things take place that are going to make us...unhappier than we already are in regards to his administration," Brewer said.