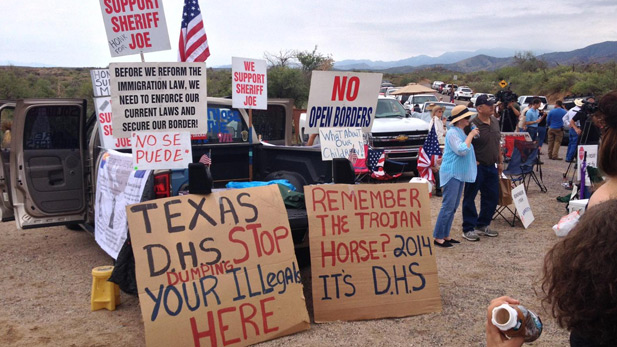 Scene outside Oracle where demonstrators anticipated the arrival of illegal immigrant children. (PHOTO: Bob Lindberg, AZPM)
By Bob Lindberg
Young Central American immigrants reported to be headed to a shelter near Oracle would not arrive Tuesday, an official in U.S. Rep. Raúl Grijalva's office said.
That word came at mid day as about 100 demonstrators - half opposed and half in favor - waited in and near Oracle for the anticipated arrival of immigrant youth at a temporary shelter, the Sycamore Canyon Academy.
Grijalva's spokesman said the office received a one-sentence message from the U.S. Department of Health and Human Services saying no immigrant youth were going to the academy Tuesday.
Despite that, demonstrators opposed to the youth being placed near Oracle said they would remain to try blocking the way.
The demonstrators began gathering in and south of Oracle after daylight Tuesday. Those opposed to the arrival of the children were about three miles up the road toward Mount Lemmon near Sycamore Canyon Academy, where a spokesman said in a news release that about 40 children were anticipated.
Those supporting the immigrants were in Oracle, although as the day wore on, many began moving toward the opposition group.
A few on both sides exchanged words, especially after a mariachi group in support of the immigrant children walked through, playing music. The faceoff remained peaceful, something that Pinal County Sheriff Paul Babeu insisted on when he addressed the crowd Tuesday morning.
A spokesman for Sycamore Canyon Academy, a youth shelter for boys, said in a press release that the institution had been asked to take "a small number of the unaccompanied youth from Central and South America."
Babeu said earlier in a news release that federal officers were expected to bring 40 to 60 children to Sycamore on Tuesday by bus. The sheriff, a staunch illegal immigration opponent, said he was against their arrival, preferring that they be deported.
He said he was asking the federal government for detailed information on all of them, adding that for public safety reasons, he needed to know who was being brought into the county.
The children are among thousands of unaccompanied minors entering the United States illegally after traveling from Guatemala, Honduras and El Salvador. Their arrivals, mostly along the Texas border, have overwhelmed Border Patrol facilities, leading to opening of several shelters, including one in Tucson and one in Nogales.
Two weeks ago in Murrietta, Calif., a group of residents blocked a bus that was carrying some of the immigrants heading to a shelter in the Southern California town. The bus turned back, taking its passengers elsewhere.
That has fostered other protests across the country as federal officials seek what they say is temporary placement for many of the estimated 57,000 Central American immigrants who have come in illegally over the last 10 months.
Under federal law passed in 2008, unaccompanied Central American minors cannot be deported immediately but instead are entitled to go through an immigration hearing and other review before decisions are made on deportation.
Pending those reviews, federal officials have been housing the children temporarily, placing them with family members in the U.S. when they can be located or seeking other accommodations.