The city of Tucson will increase the use of "bike boxes" on city roads, and will also be hanging signs to educate drivers about the new road feature.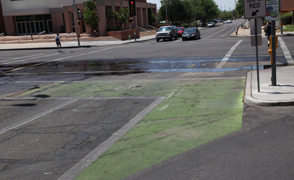 PHOTO: Zac Ziegler, AZPM
Bike boxes, like this one at Highland Avenue and Sixth Street, will soon be accompanied by signage explaining how cars should interact with the space.
Bike boxes are large, green strips that are painted just before an intersection, marking a space reserved for bikes during a red light.
The road features are meant to give bicyclists their own space at intersections, making it easier for them to turn and increasing their visibility.
"[Bike boxes] go in at locations where we know there's a fair bit of cycling activity and having the bicyclist get in front of the cars helps make the cyclist's maneuver more predictable," said Ann Chanecka, city of Tucson bike/pedestrian coordinator.
Drivers are to stop behind the boxes regardless of whether cyclists are present.