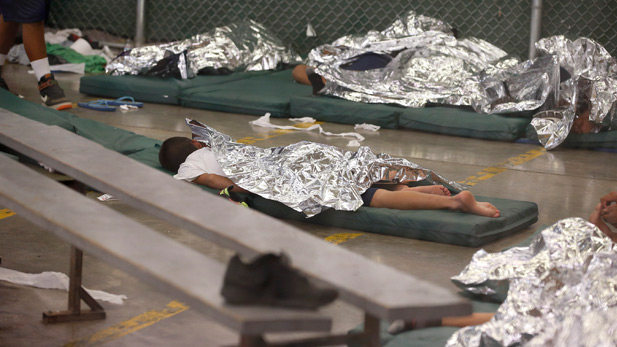 Child sleeps in one of the holding areas for Central American kids shelter in Nogales, Ariz. (PHOTO: AP)
By Kate Sheehy, Fronteras Desk
The number of Central American children at a Nogales shelter has fallen to about 200 from more than 1,000 at its peak a month ago, and the shelter may be empty by Monday, federal officials said Friday.
The report came as a federal judge ruled that lawyers are allowed to speak with some Salvadoran child migrants at the Nogales facility.
Children began arriving at the Border Patrol compound in Nogales in early June after facilities in Texas became overwhelmed. An estimated 60,000 unaccompanied children from three Central American countries have crossed illegally into the United States in the last 10 months.
Since June, other shelters have been opened around the country, including one housing nearly 300 children in Tucson. In many cases, children have been placed with family members or others in the U.S. while they await their appearances in immigration court to determine if they should be deported.
In the case of legal representation, the judge in Los Angeles responded to civil rights organizations that filed a lawsuit after being repeatedly denied access by Customs and Border Protection to Salvadoran children held in Nogales.
"Right now we're detaining an unprecedented number of children and families who are fleeing violence in their home countries, and it really underscores the need to make sure they have basic due process protections and understand their legal rights," said Karen Tumlin, with the National Immigration Law Center, which was a plaintiff in the case.
Tumlin said the court order allows attorneys to speak with 25 Salvadoran children in Nogales and with Salvadoran adults in another facility in Artesia, N.M.