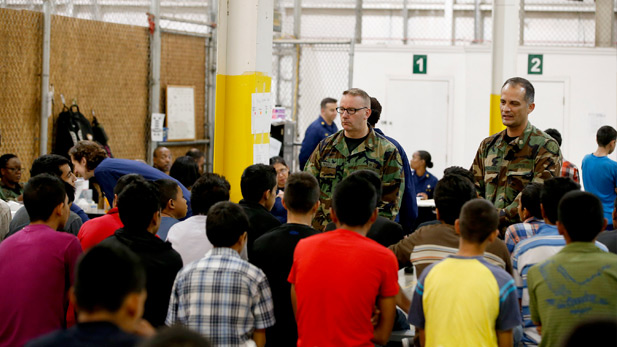 PHOTO: AP
Federal agents address Central American children at a Nogales shelter in summer 2014.
Arizona's senators say they are moving forward with a bill that would expedite the deportation of Central American unaccompanied, undocumented children apprehended at border, a media release from U.S. Sen. John McCain says.
The Children Returning on an Expedited and Safe Timeline Act would allow for Customs and Border Protection return children "as quickly as possible, while maintaining screenings for victims of trafficking and abuse."
The bill would also increase penalties for human smugglers, increase number of immigration judges to hear cases and allow in-country processing of refugees, the release said.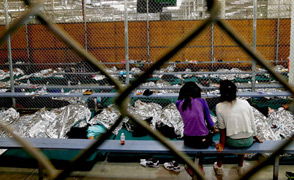 PHOTO: AP
Children and teens from Mexico and Central America inside a Border Patrol detention facility in Nogales, Ariz.
"We expect that most provisions of the CREST Act will likely be included in any supplemental appropriations bill the House passes in the next few weeks. Without amending the 2008 Trafficking Victims Protection Reauthorization Act to allow for faster repatriation of (unaccompanied children) from Central America, we cannot envision supporting the president's request for additional funds," said a joint statement by McCain and U.S. Sen. Jeff Flake.
The Republican senators also said that Border Patrol agents provided good humanitarian relief to unaccompanied children housed in the Nogales, Ariz. shelter.
McCain and Flake wrote Monday that the processing center will no longer receive children apprehended while trying to cross into the U.S. illegally.
"The men and women of the Border Patrol who have been working on the front lines to provide humanitarian relief in Nogales should be commended for their remarkable work over the last several weeks," the statement said. "Their tremendous service and sacrifice have been highlighted during this crisis, and all Arizonans and Americans owe them a deep debt of gratitude,"
A high-ranking Border Patrol official said last week the Nogales location was being phased out as the agency gets a better handle on the problem.
The facility last month had more than 1,000 children who had been flown and bused from south Texas after border agents there became overwhelmed.
White House officials reported Monday the number of unaccompanied minors crossing the border had dropped significantly. The daily average the first two weeks of July was 150 children, while in June an average of 355 children were apprehended per day.
Since October, more than 57,000 migrant children, mostly natives to Guatemala, El Salvador and Honduras, have been apprehended, creating what the federal government called a humanitarian crisis.
The Associated Press contributed to this report