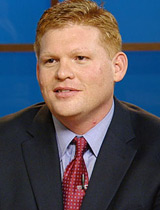 Wil Cardon
A lawsuit filed by six siblings of Wil Cardon accuses the candidate for Arizona secretary of state of abusing family trust funds with spending on his unsuccessful U.S. Senate candidacy in 2012 and to support a lavish lifestyle.
The suit filed July 16 in Maricopa County Superior Court contends that Cardon abused his role as trustee by improperly transferring $6.5 million for the 2012 campaign and an additional $3.2 million to himself this year.
Cardon campaign consultant Chris Baker said the lawsuit is spurious and an attempt to weaken Cardon in negotiations with his siblings.
Cardon is one of three candidates running for the Republican nomination for secretary of state. The secretary is the state's chief election officer and first in line to become governor if there's a midterm vacancy.