Listen:
Congressional unwillingness to pass immigration reform is a significant contributor to the security threat from illegal immigration, a border security expert says.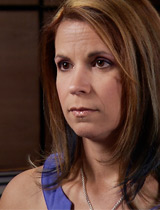 Sylvia Longmire, author of "Border Insecurity: Why Big Money, Fences, and Drones Aren't Making Us Safer" and border analyst. (PHOTO: AZPM Staff)
Because illegal immigration has been so heavy lately, federal administrative work has pulled Border Patrol officers away from watching out for legitimate threats along the border, said Sylvia Longmire, a Tucsonan who is a security consultant and author. Longmire writes about border security on her blog, Border Violence Analysis.
"One of the main problems with the surge is that trying to segregate the threats from the non-threats is one of the big issues," Longmire said in an interview with Arizona Public Media.
"You have these 57,000 unaccompanied minors and children and family units coming across the border," she said. "That's obviously placing a huge strain on social services. But are they really a threat? That is a problem for the administration to deal with. But is that a security issue?"
Longmire said she doesn't think it is, except that it draws the attention of the Border Patrol and thus, when and where there are threats, officers are involved elsewhere.
"The real security issue is that while all these people are being dealt with on an administrative level and being processed ... I'm more worried about the real bad guys, the violent drug smugglers, people associated with groups like Hezbollah or other terrorist organizations," she said. " Who's tending to them while all these agents are being pulled off the line to deal with an administrative issue that can be dealt with at the administrative level?"
That administrative level is Congress, she said, which has not acted to deal with changing how immigration laws are administered.
Additionally, Longmire said, the need for illegal immigration is one that neither political party wants to own up to.
"What nobody really wants to talk about is how both Democrats and Republicans are benefiting from cheap labor, from illegal immigration," she said. "You have Democrats say, well these people are going to support the Democratic Party ... ."
"But then on the Republican side, you have the large businesses that are benefiting from cheap labor, you have huge farms and ranches that are benefiting from illegal labor, and all of those play into the financial support that goes to the GOP. So they don't want to see that go away."
As for those who say the influx of Central American youth may bring with it the threat of gang members infiltrating the country, Longmire said it's minimal at best.
"What I've seen so far, maybe a dozen or so, a couple of dozen,have been identified by their tattoos and everything (as gang members)," she said. "That's to be expected. But overall, at least the numbers I've seen, that's only a couple dozen out of the 57,000 that have been apprehended.
"So it makes really good headlines ... But these are not the routes gang members traditionally take to get to the United States."