Two Mexican gray wolf pups from an Arizona pack are thriving with their new family in New Mexico, wildlife managers say.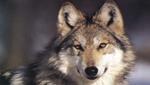 In May, the pair was transferred to the area with another pack of wolves with a smaller litter.
Wildlife managers have been troubled by the survival rates of wild-born pups. The goal with cross-fostering is to improve the genetic health of the endangered predators as they are reintroduced to the American Southwest.
This is the first time the technique has been used with Mexican gray wolves. In the past, it's worked with red wolves in the East Coast.
The Arizona Game and Fish Department said this week that a trail camera photo shows that the pups are alive and doing well.
The Associated Press contributed to this report.