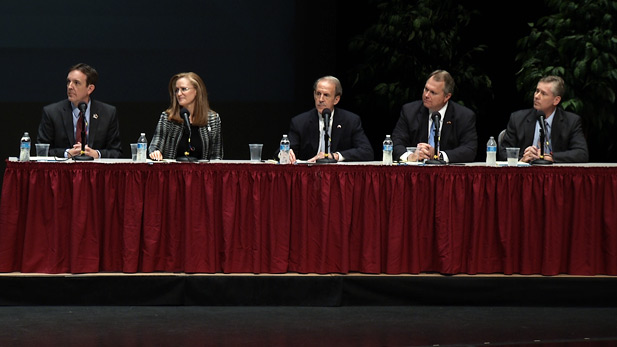 Five of the six Republican candidates for governor in Tucson, July 30, 2014. From left: Ken Bennett, Christine Jones, Frank Riggs, Scott Smith, Andrew Thomas. Missing: Doug Ducey. (PHOTO: AZPM Staff)
Republican candidates for governor on Wednesday prescribed a wide range of solutions to what they acknowledged is continuing struggle with the state's economy.
Five of the six GOP candidates for governor spoke at a forum at Pima Community College sponsored by Arizona Public Media and the League of Women Voters of Greater Tucson. State Treasurer Doug Ducey, who was invited to the forum, declined to appear citing a conflict.
The other five were asked how they would improve the state's economy, which is still lagging in the wake of the recession. Arizona's unemployment rate in June was 6.9 percent, compared with a national rate of 6.1 percent, and state officials say the economy has replaced about half the 300,000 jobs lost during the recession, one of the worst recovery rates in the nation.
Candidate Ken Bennett, who is secretary of state, said education is the key to improving the economy.
"Our education system has got to be improved so that companies will come to Arizona and or stay here knowing that will find the workers that will help make their companies successful," Bennett said.
Candidate Christine Jones, fresh from the private sector where she was an executive with GoDaddy Operating Co., called for reduced regulation, especially on small businesses, which she called the job creators.
"Streamline the tax code, remove statutory and regulatory barriers to entry, pave the way for them to create jobs," Jones said.
Candidate Andrew Thomas, former Maricopa County attorney, said the problem with the economy and many other issues in the state is illegal immigration.
"A lot of jobs that are maybe not high paying jobs but are good jobs are being taken by people who are coming to this state and country illegally," Thomas said. "That is a fact, and it is depressing the wages."
The candidates also were asked how they would balance the state budget, which by one projection could be $800 million in the red in two years.
"We'll look at every tax in every place that we can to see if the revenue we are receiving is brought in fairly and it will create economic development," said candidate Scott Smith, former mayor of Mesa. "But the best thing we will do is restructure, we will restructure, we will reform we will reorganize."
Candidate Frank Riggs, a former three-term congressman from California, called for a revamp of the tax system.
"To simplify it, get rid of all the special interest tax loopholes, all the corporate welfare," Riggs said. "We have an opportunity to institute new tax policy in our state that encourages savings and investment."
Early voting for the primary election begins this week, and Election Day is Aug. 26. The GOP winner will face Democrat Fred DuVal in the November general election.