(VIDEO: azpm)
Candidates, political parties and independent committees spent about $1 million to buy television advertising in Southern Arizona in July.
In some instances, the money went toward political advertisements that will air later in the election cycle. But TV viewers have already seen ads from Republicans running for governor, and from both political perspectives in the Congressional District 2 race.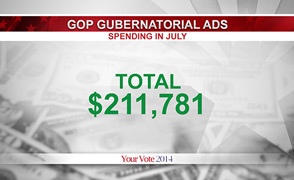 (PHOTO: AZPM Staff)
In the GOP primary for governor, Doug Ducey spent $93,855 in July, and Christine Jones spent $80,994. They were the top spenders in that primary on Southern Arizona TV ads. Altogether, Republicans running for Arizona governor spent $211,000 on ads in the Tucson TV market.
Those who are on the early voting list will receive their ballots in the mail in the next few days and conventional wisdom says the TV ads help candidates earn name recognition, and thus garner votes.
In CD 2, Republican Martha McSally is the only of three primary candidates on the TV airwaves. She spent $54,406 for ads that aired in July, and $129,905 in July to reserve time for ads that will air in October.
Others have also tried to sway Southern Arizona voters, including the Democratic Congressional Campaign Committee, which spent almost $90,000, and the House Majority PAC, which spent more than $145,000 in July.
By far the biggest spender on Southern Arizona TV time in July was the National Republican Congressional Committee, which sunk more than $450,000 into TV advertising.
"I think most voters are trying to figure out just exactly what each of these candidates do stand for," said Carolyn Cox, chairwoman of the Pima County Republican Party.
As noted in the spending numbers, campaigns not associated with candidates can have an impact on the races, said Vince Rabago, a former chairman of the party.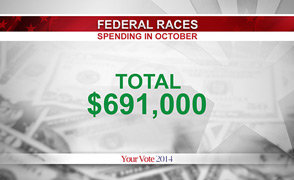 (PHOTO: AZPM Staff)
"We've seen over the years, outside money flooding into campaigns, but what we've seen in the last two years is outside money just pouring in," Rabago said.
From 2010 to 2012, the amount of money spent on political advertising from organizations unaffiliated with the campaigns themselves doubled, from about $500 million to more than $1 billion, Rabago said.
"The money is coming in not just to federal campaigns, but county elections," he said.
"If you're going to have money, you've got to at least have disclosure," Rabago said.
"I think that's absolutely true," Cox said in response.
Early ballots mean voters have weeks to chose how to mark their ballots for the Aug. 26 primary election.
"When you have people voting for a month before the actual election, it means that the parties really have to make a big effort to get out the vote," Cox said, especially calling voters who have not turned in their ballot as the weeks go by.
The Pima County Democratic Party does the same thing, Rabago said.
One-third of Arizona registered voters have requested an early ballot, so candidates continue to campaign in August, he said.
"Election day is now and every day until the primary Aug. 26," he said.